The Guardians of the Galaxy are taking on a new mission thanks to Immortal Hulk's Al Ewing. This time, they're more spies than superheroes.
All-out cosmic war
So how does a massive amount of cosmic strife and war, a returning set of gods, and the Guardians of the Galaxy being spies work out? Simple.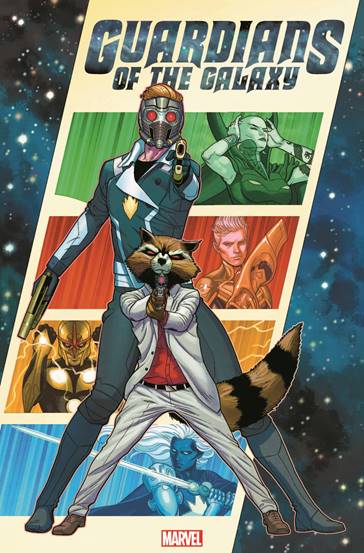 "GUARDIANS OF THE GALAXY is a high-octane spy-fi action-adventure set against an evolving backdrop of interstellar politics, intrigue and suspense," says Al Ewing. "War is coming – and if the Guardians can't stop it, they're going to be right in the middle…"

…

Once, they were a team of misfits. Now they're a family, and they've earned their peace. But the universe is not a peaceful place — and it's only getting worse. The Great Empires are in turmoil. The rule of law is dead. And amidst the chaos, the Gods of Olympus have returned — harbingers of a new age of war, reborn to burn their mark on the stars themselves. Someone has to guard the galaxy – but who will accept the mission? And will they survive it? Al Ewing (IMMORTAL HULK) and Juann Cabal (FRIENDLY NEIGHBORHOOD SPIDER-MAN) bring you in on the ground floor of a whole Marvel Universe of action and suspense!

Marvel Comics
As a mostly non-fan of GotG myself, I'm actually intrigued by this new take. I like the "spy" stuff, and the whole Gods of Olympus thing sounds like it could be really cool, cast against the backdrop of war between Marvel's alien races.
On top of that too, artist Juann Cabal's work is looking great here on the cover. I'm not sure what's happening with the Miami Vice look for Rocket, but I'm sure we'll find out.
That'll happen when Guardians of the Galaxy #1 (what else?) hits stands in January.