If you're an Alien fan, you're probably going to like what The Quarto Group has on tap for November. Alien Vault celebrates 40 years of xenomorphs.
In space, no one can hear you read
When you talk sci-fi or horror, there are a few absolute icons. Firmly in both camps is Alien, the 1979 film that launched a franchise that'd eventually encompass just about every form of entertainment you can imagine.
Now on the 40th anniversary of that iconic movie comes Alien Vault, a celebration of the property. This is actually a second printing of the book, which originally launched in 2011. It's much more timely now though, and remains just as cool sounding as the first run.
Actually a little cooler, since the new edition includes a chapter tracing "the path of Ridley Scott's return to the Alien saga with Prometheus and Alien: Covenant."
Here's a taste of what else is inside: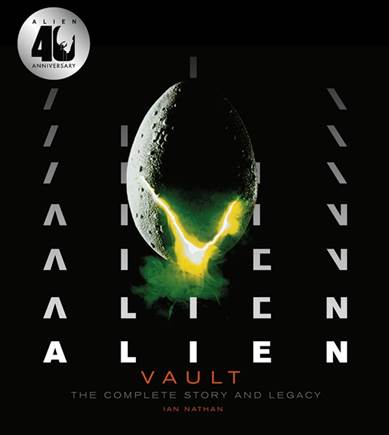 Director Ridley Scott's own annotated storyboards, Polaroids, and script pages
The elegant but disturbing concept artwork of H.R. Giger
Sketches and construction blueprints for the Nostromo
Costume designs by Moebius
A treasure trove of never-before-seen photographs of the cast and crew
10 meticulously reproduced artifacts—such as replications of storyboards, a detailed schematic of the Nostromo, early designs of O'Bannon's facehugger concept, and a promotional poster from Japan—enclosed in envelopes, for readers to remove and examine more closely
From writer Ian Nathan, Alien Vault arrives on November 19th.