Spawn is back in a big way, and it all starts at Comic Con International. The road to #300 will be paved with tees, collectibles and more.
Hellmerch
It's been a while since there's been anything "Spawn" on retail shelves. I'm not sure why that is exactly, but it's been around ten years according to creator Todd McFarlane's company.
That drought ends though, at this month's SDCC. Spawn is hitting the 300 mark in terms of numbering this summer, making it the longest running creator-owned book ever. So you bet that McFarlane will have all manner of Spawn stuff at the Image Comics booth (#1915) to celebrate.
There are two t-shirts available including the SPAWN Orb T-shirt and the SPAWN Parody T-shirt. The SPAWN Orb T-shirt features the classic SPAWN logo. The SPAWNParody T-shirt pays homage to the anti-hero's iconic red cape. Both shirts are available in sizes ranging from small to 3X and are priced at $25.00. 
There are five exclusive pins included in the collection: SPAWN Logo Pin, SPAWNParody Pin, SPAWN Triangle Pin, SPAWN Skull Pin, and SPAWN Orb Pin.  Pin collectors are in luck with a range of classic designs from the comics release in 1992, as well as highlighting more recent features of the SPAWN series. The price of the pins ranges from $10.00 – $12.00.
The McFarlane Event Exclusive SPAWN Art Print features its own unique identification number and will be available in the limited quantity of 250 posters. Luckily fans may be able to get their limited edition Art Print signed because Image Comics is giving away free tickets to Todd McFarlane's signing sessions beginning at 9:30 AM each day of Comic-Con. The SPAWN Art Print is solely available at the Image Comics booth #1915 for $20.00.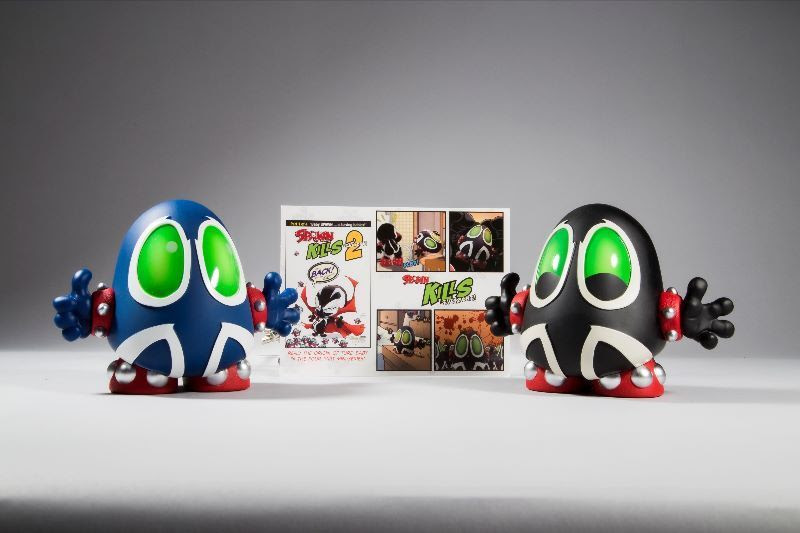 The collection will feature a new category of McFarlane Toys ripped straight from the pages of SPAWN Kills Everyone 2, the SPAWN BumBumz Vinyl Figure.  The SPAWNBumBumz vinyl figure comes in premium packaging and contains an exclusive art card that features a scene from SPAWN Kills Everyone 2. There are two different versions available to choose from, including Black or Blue BumBumz and costs only $25.00 (as seen pictured below). 
Another piece of the collection is the first ever SPAWN Logo Lanyard! The price of the SPAWN Logo Lanyard is $10.00.