The bandicoot is back. Crash returns in a ground floor remake of the classic PSOne racer Crash Team Racing. Time to put the pedal to the metal.
Spinoff
When you think "kart racer" you no doubt think Mario Kart. Nintendo's long running series has pretty much secured itself as the name in that genre. Though there's a lot more to kart racers than just the Mushroom Kingdom.
Pretty popular in the mid-90s, there were quite a few kart racing titles to see release. Most of those were admittedly pretty forgettable, but the point here is that the genre isn't a one trick pony. Or in this case, bandicoot.
Crash Team Racing spun out of the Crash Bandicoot series of platformers on the PSOne, and it did a great job of capturing an audience for itself. After just two entries though, it vanished.
Much like Crash himself and the genre in general however, it's back in a big way. Activision and Beenox' top to bottom remake is filled with personality, some amazing visuals, and a ton and a half of fun.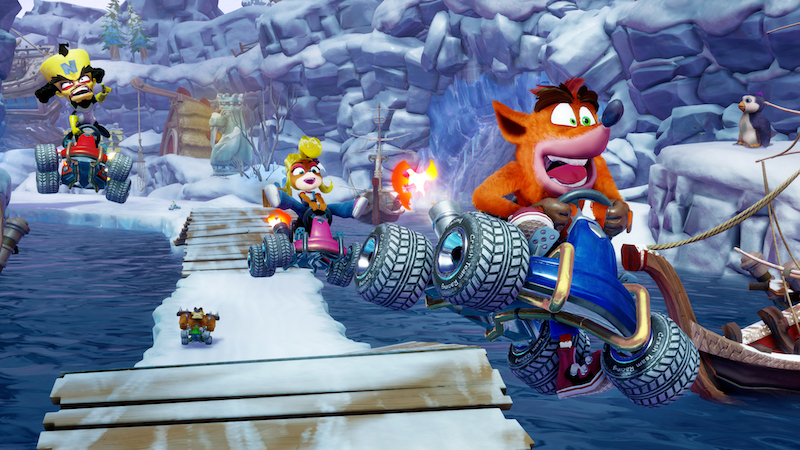 Premise
Unlike most kart racing titles in the past, Crash Team Racing actually has a story. It's not an overly deep story, and it has some weird moments, but it's there. And actually, it's kind of fitting for Crash.
An alien driver called Nitrous Oxide has come to Earth and he's looking to race. This is no friendly day at the speedway though, as Oxide is threatening to enslave the planet if he wins. So naturally, Crash and his friends (and enemies) all dig in to best the nefarious offworlder.
The tale plays out across five worlds, in some excellently made tracks. There your racer will face familiar Crash universe characters and even battle bosses. You'll also get to unlock customization options, for both your kart and your riders. It's fun added stuff that really fills out the game nicely.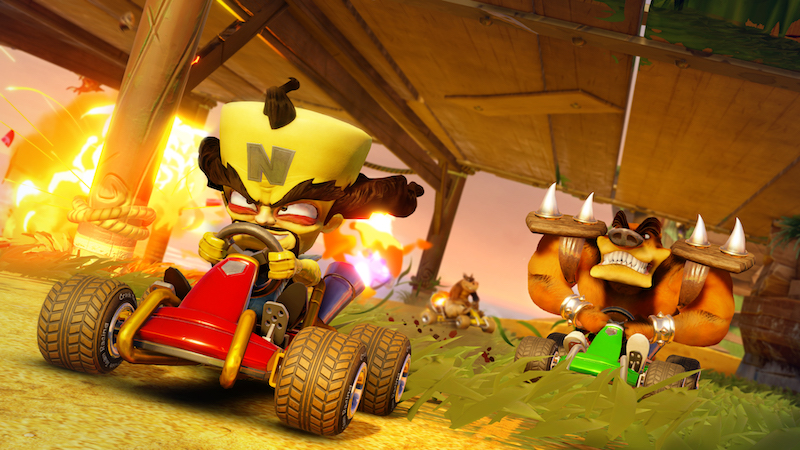 Past the story and the customizing, there's the more traditional racing. Yes CTR offers a plain old racing mode. So if you don't dig the narrative option you can absolutely dig in with some old fashioned one and done karting. And yes, that's playable in multiplayer, online and off (how kart racers are meant to be played).
Gameplay
If you've played a kart racer before, and who hasn't, then you can easily pick up and play Crash Team Racing. The game is fairly standard in most ways, though there are a few changes.
For starters though, the core genre gameplay in intact. You'll speed across tracks firing weapons and using power-ups galore, all while trying to power-slide your way to victory.
Speaking of, the power-slide is a game all by itself. No simple mechanic, power-sliding has a meter that builds (quickly). If you hit the opposite bumper from the way you're sliding on your controller at just the right time, you'll get a speed boost. That's incredibly important in CTR, because no matter which mode you play on (classic or modern), this game is tough.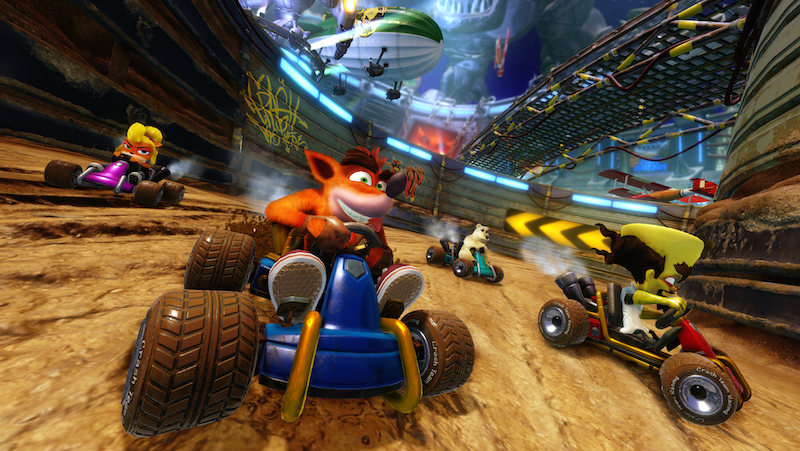 As long as you're not playing on 'easy', which isn't much fun, Crash Team Racing takes a ton of skill to play. Weapons and speed boosts don't pack the same punch as in Mario Kart (for example), and most all of the computer controlled racers tend to stay packed together. They don't really fall all that far behind, unless you're playing exceptionally well. Simply put- these races are actually challenging!
In the story mode, you can't even advance unless you place first in each of the areas races. So there's no 'I got second place, but I'll make it up next race' mentality possible. That won't cut it.
That means that you'll have to… wait for it… get good. But that also means that Crash Team Racing: Nitro-Fueled has serious legs. This isn't a kart racer that you'll best in an afternoon, unless you're playing in easy mode.
Oh one tip too – make sure you keep your Wumpa Fruit counter filled. Your kart will go faster and your power-ups will be more effective if you're at 10.
Presentation
Gorgeous. Crash Team Racing: Nitro-Fueled is flat-out gorgeous. I never played the original, but this looks like as much of a step up from that as The N.Sane Trilogy was over the platformers.
The game features a wide selection of locations, from motocross-style arenas, to beaches, to space-based tracks. It really does have a little of everything. And literally all of it looks great.
Not once did I play a track that I didn't think looked great. Some might've been more interesting than others, but Beenox did an awesome job in terms of looks.
As for the music and voices, this is classic Crash. That's a good thing since all of the ambiance is as… 'Crash Bandicoot' as anything else. The audio in Crash Team Racing adds to the game and makes it feel like an authentic part of the franchise, which of course it is.
Overall
As kart racing games go, this is a gem. Crash Team Racing: Nitro-Fueled hits all the high notes that makes the genre what it is. It is a fairly tough game, I'll give you that, though you might find that the challenge isn't too off-putting.
Get your practice in with the easy difficulty and you'll be digging into the tougher challenges in no time.
Review Copy provided by Activision
Crash Team Racing: Nitro-Fueled
Release date: June 21st, 2019
Platform(s): Xbox One (reviewed), PS4, Switch
Published by: Activision
Developed by: Beenox
Premise - 75%
Gameplay - 88%
Presentation - 93%
Crash Team Racing: Nitro-Fueled is an excellent, but surprisingly tough new addition to the kart racing genre. As long as you're willing to put in some time with it, or play it on the (way too) easy mode, it's a fascistic looking and controlling title.