There are a ton of great exclusives already announced for this year's Comic Con. Well, add some more to that pile with DST and Gentle Giant's reveals.
Exclusives make me feel good
Honestly, the Ghostbusters sets here kind of make the whole thing for me. Then again though, I'm a big fan, so I'm biased. And anyway, even if you're not a fan of the boys in grey, there's still a bunch of great looking stuff coming up from both Gentle Giant and Diamond Select Toys.
All of the below will be exclusive to San Diego Comic Con, coming up next month. As usual too, that means that it's all going to be pretty limited in availability. So if you want any of this, get to booth #2607 as fast as you can.
Real Ghostbusters Action Figures Spectral GB Box Set 

The classic tan costumes return with a surprise twist in this new Ghostbusters action figures box set! Composed of ectoplasmic energy, the Spectral Ghostbusters step off the screen and into your hands, their first time in the 7" Select scale! The creepy quartet are joined by an exclusive angry Mr. Stay-Puft and an exclusive Spectral Terror Dog. Designed by Yuri Tming, sculpted by Gentle Giant Studios. $120
Lost in Space Vinimates Retro B9 Vinyl Figure

B9 goes back in time in this new exclusive Vinimates vinyl figure! Decked out in a classic red-and-blue paint scheme inspired by the tin toys of yesteryear, this 4-inch vinyl toy comes in a full-color window box. Designed by Limited to 250 pieces. $10

Forbidden Planet Vinimates Retro Robby Vinyl Figure

Robby the Robot gets a new paint job in this new exclusive Vinimates vinyl figure! Sporting a classic red-and-blue color scheme inspired by the tin toys of yesteryear, this 4-inch vinyl toy comes in a full-color window box. Limited to 250 pieces. $10

Invader Zim Vinimates Extra Doom Vinyl Figure 2-Pack 

Doom! This exclusive Extra Doom Edition of Zim and Gir shows them at their most evil, all shadowy and doom-forecasting. Each 4-inch-scale vinyl figure has an articulated head, and both come packaged in a full-color window box. Limited to 250 pieces. Designed by Barry Bradfield! $20

John Wick Vinimates Chapter 1 Vinyl Figure

John Wick is back, and this time he brought a change of clothes! Wearing his classic white shirt-black suit combo from the first film, John is ready for revenge at 4 inches tall, with an articulated head. Packaged in a full-color window box, limited to 250 pieces. Designed by Barry Bradfield! $10

Iron Giant Vinimates Weathered Vinyl Figure

Check out the Metal Man! The Iron Giant is his shiniest ever in this new, exclusive paint scheme. Painted in a metallic paint with weathering effects, this 4-inch vinyl figure has an articulated neck, and comes packaged in a full-color window box. Limited to 250 pieces. Designed by Barry Bradfield! $10

Pacific Rim Uprising Battle Damaged Gipsy Avenger Action Figure

The main Jaeger of Pacific Rim Uprising rejoins the fight in this exclusive battle-damaged variant figure. With the scars of a Kaiju battle all over, she stands nearly 8 inches tall and features multiple points of articulation. Packaged on a blister card. Sculpted by BigShot ToyWorks. Limited to only 250 pieces. $20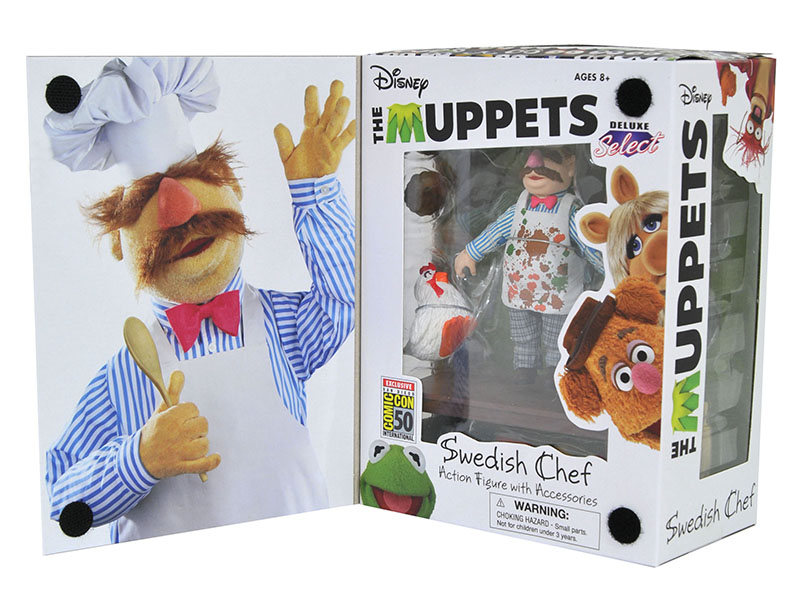 Muppets Select Deluxe Messy Swedish Chef Action Figure 

Bork bork bork! The Swedish Chef has caused a kitchen catastrophe in this exclusive variant action figure from the Muppets Select line. With food splattered all over his apron, he comes with a slew of food and dishes, plus a table to cook on and even a chicken! Packages in a full-color window box with fifth panel. Limited to only 500 pieces. Sculpted by Gentle Giant Studios. $30
Star Trek Starship Legends Gold Enterprise NCC-1701-C 

The Enterprise C has left space dock, and her first stop is SDCC! Painted gold as it is often seen on the walls of the Enterprise, this model of the Enterprise C measures approximately 16 inches long, the first time the iconic ship has been done in this scale. Packaged in a full-color window box, it includes a display stand. Limited to only 250 pieces. $60.00
Star Wars Concept Sandtrooper Mini-Bust 

This exclusive mini-bust is inspired by the pre-visualization artwork of the original Star Wars films. Depicting one of the first known illustrations of a sandtrooper, this 6-inch scale bust is limited to 750 pieces and comes packaged in a full-color box with a certificate of authenticity. Designed and sculpted by Gentle Giant Studios. $120
DC Premier Collection Harley Quinn Gem Edition Statue 

Harley's got the diamonds, and now you can get Harley! This exclusive limited-edition statue of Harley Quinn shows her holding one of the Joker's Jokerfish, and has real diamonds set into the leg of her costume! Measuring approximately 11 inches tall, it was hand-sculpted by Clayburn Moore and includes a certificate of authenticity. Limited to only 200 pieces. $200
Marvel Comics Gallery SDCC X-Force X-23 as Wolverine PVC Diorama

She's back in black – and grey! Laura Kinney, a.k.a. X-23, a.k.a. the all-new Wolverine, changes her clothes in this Comic-Con-exclusive Marvel Gallery PVC Diorama. Striking a menacing pose in her grey-and-black X-Force uniform, Laura stands approximately 9 inches tall atop an X-logo base and comes packaged in a full-color window box. Designed by Uriel Caton, sculpted by Sam Greenwell. Limited to 6,000 pieces. $50

Marvel Comics Gallery SDCC X-Force Deadpool PVC Diorama

Deadpool returns to SDCC in style! Unfortunately, his ride got trashed along the way, and Deadpool is posed atop a destroyed taco truck base, sporting bunny slippers and wielding twin finger guns with the safeties off! This exclusive X-Force Edition of Deadpool stands approximately 10 inches tall and is made of high-quality PVC with collectible-quality paint applications. Packaged in a full-color window box. Designed by Caesar, sculpted by Cortes Studios! Limited to 10,000 pieces. $50

Legends in 3D Marvel Comic SDCC X-Force Deadpool ½ Scale Bust

X-Force Assemble! This exclusive ½ scale bust of the Merc with a Mouth in his X-Force colors measures approximately 10 inches tall with exacting sculpted details and the highest level of paint applications. Limited to only 1,000 pieces, this hand-numbered resin bust comes with a numbered certificate of authenticity in a full-color, hand-numbered box. Designed by Joe Allard, sculpted by Rocco Tartamella! $50 

DC Gallery SDCC Speed Force Flash PVC Diorama

Time to enter the Speed Force! This exclusive 9-inch scale PVC diorama of the Flash racing across a wave is the latest in the DC Gallery line. Made from high-quality plastic, this detailed translucent sculpture delivers the look of a resin statue at a fraction of the price, and is in scale to all Gallery and Femme Fatales PVC dioramas. Flash Fact: It comes packaged in a full-color window box, and is limited to only 7,000 pieces! Designed by Caesar, sculpted by Joe Menna. $50

Marvel Gallery SDCC Captain Marvel SHIELD PVC DIorama

She's Carol Danvers, Agent of SHIELD! Captain Marvel dons the black and silver of a SHIELD operatice in this SDCC-exclusive Marvel Gallery PVC Diorama. Striking a graceful pose in her new uniform, Laura stands approximately 10 inches tall atop a logo base, and comes packaged in a full-color window box. Designed by Uriel Caton, sculpted by Alejandro Pereira. Limited to 4,000 pieces. $50
ON THE SHOW FLOOR:
Ghostbusters Movie Slimed Action Figures Box Set

Available at participating retailers on the show floor (get a list at booth #2401)! To celebrate the 35th anniversary of the classic horror-comedy Ghostbusters, Diamond Select Toys has created the ultimate movie collectible – the slimed action figure 4-pack! Featuring Peter, Ray, Egon and Winston in their slimed appearances, each action figure features approximately 16 points of articulation, as well as interchangeable hands, removable walkie-talkies and more. Packaged in a full-color window box with a fifth panel, this set is limited to only 1984 pieces! Designed by Yuri Tming, sculpted by Gentle Giant Studios. SRP: $80