Wow a year has gone by so fast! My previous article has proven correct 3/5 for the hype scale. Let's ignore the dumpster fire that Anthem turned out to be and move onto things I was sorta right about! Sekiro was a hit, Death Stranding is still aboard the hype train and guess what? Remember when I said, and I quote myself:
Games are getting the Hollywood spotlight…
What better way to get their attention than to show them that games have big names behind them…?

– Me
Cyberpunk 2077 decided that if Death Stranding gets Norman Reedus, they get Keanu Reeves! It was… dare I say… "breathtaking"! Without further ado let's get into my standout picks!
S(ouls)-Tier
With regards to my above quote: Elden Ring… Oh Elden Ring… A new video game world created by Hidetaka Miyazaki and George R.R. Martin? I doubt you could even imagine it… The narration and music in this trailer is disgustingly good. FromSoftware has had incredible trailers (Dark Souls 2, Dark Souls 3) but this one… damn… I can rewatch this countless times and still get goosebumps!
The beginning features a musical leitmotif from Dark Souls 1 (note the strings) which earns bonus points from me, a long running fan of the Souls series. This new, fresh take on an "open-world RPG" with a mythos constructed by 2 incredible world builders is exciting to behold.
We have more prosthetic fetishes, more limbs, more monarchs, more Berserk references, more dudes in armor, more detailed cinematics and, lastly, people who look like they are made out of baked clay. That's top-notch gaming material right there. All jokes aside this is an excellent hype trailer. It has me hooked already. What is the Elden Ring exactly? Why are people cracking apart like kit-kats? What is the many armed thing and why does it need another arm when it already has so many? Only time will tell…
This is S-Tier. Don't tell me you don't see it: Hidetaka Miyazaki and George R.R. Martin are working together on this. The man who helped bring a dark fantasy epic, Game Of Thrones, to television (that was extremely popular until later seasons when they ran out of books) and the man who directed the Souls franchise to its pinnacle that is Bloodborne. If I told anyone this would happen a year ago they would have said I am mad. The nature of game design has levelled up and I am hopeful for what fruits it may bare.
A(Breathtaking)-Tier
"Woah…". Keanu Reeves is in Cyberpunk 2077 and he is telling all the samurais they gotta wake up. Now, I was hype for this in 2013. Last year, I was a little less hype but still excited as to what the game would offer – now we have even more clarity:

Become V, a cyber-enhanced mercenary outlaw going after a one-of-a-kind implant — the key to immortality. Customize your cyberware and skillset, and explore a vast city of the future obsessed with power, glamour and body modification. The choices you make will determine the story and shape the world around you.

– Cyberpunk 2077 Official E3 2019 Cinematic Trailer
So, looking back at that 2013 trailer and this one, I noticed they included the necromorph-like blade arms. Huh, neat. I also noticed that perhaps there were some design decisions between now and then. The directions they wanted the story to take initially must have been related to law enforcement. But now it's more of the grey area Merc direction.
Cyberpunk 2077 looks like a solid title: highly detailed characters and environments, a retrowave heavy soundtrack (I hope) and one big boi waiting to set the city on fire. My concerns are mainly story and gameplay – we'll need some more info to wrap this one in the bud!
Type AB-Tier
Sugoi… GhostWire: Tokyo looks interesting. People are vanishing, you need to find out why and can find spirits that can help or hurt you. The world is probably being taken over by the spiritual realm (coupled with some Yokai/Big Corp shenanigans). The designs here are really good and creative. The seamless transitions between scenes deserves praise. Smell that? That's Grade A freshness right there… Or is that the HD noodles?
Supposedly it is an action-adventure game but not much else is known yet about the gameplay. Similar to my standing on Cyberpunk 2077, I'd like to see more, onegaishimasu!
Note: The title of this section is an extremely obscure Japanese reference.
B(lood)-Tier
Do I honestly need to say anything about why Doom Eternal is great? It's a badass, fast-paced, smooth-af, gory, metal mess and it's awesome! It's extremely polished – there are crazy graphics, insane executions, entertaining animations, and metal music from Hell itself. While it isn't anything new it still deserves one of the top ranks for how utterly sick it is, viscera and all! RIP AND TEAR!
C(risp)-Tier
"Ever get that feelin' of Deja Vu?"
Deathloop is a game set on the island of Blackreef where 2 assassins are duking it out, "Groundhog Day" style. The island and its wacky residents are caught in a time loop and dying is just a part of the endless cycle. 1 assassin wants to end it while the other wants to keep it going forever. There's nowhere to run to baby and nowhere to hide!

Besides this fresh concept, Deathloop carries itself on the reputation of its creators – Arkane Studios (the developer of the Dishonoured series and Prey). The trailer bears a resemblance to Dishonoured's art style, in character design and environment design. The glaring difference is the huge interstellar-looking device supposedly driving the time loop (maybe a Prey influence?). The retro style illustrations and time period are also interesting. Deathloop seems like a cool concept but without any gameplay footage we'll have to wait to see how this one checks out.
What The F-Tier?
Seriously Microsoft? This is a browser game for a cartoon on Cartoon Network. This is worse than some flash games on Newgrounds… and they're made by people with 0 budget. Look at this response: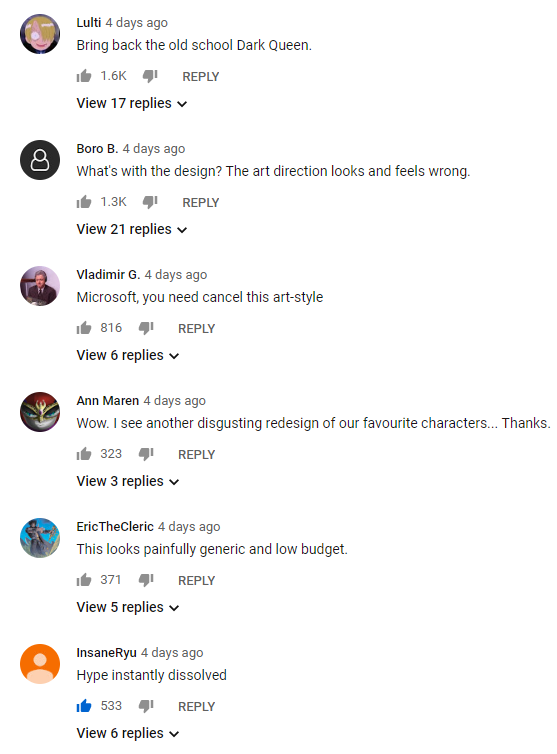 Dishonourable mentions of companies kicking dead horses and disrespecting old games:
Commander Keen – the Bethesda mobile game money grab that looks like a Disney XD animated show
Tom Clancy's Elite Squad – the Ubisoft mobile game money grab
Gears POP! – the Epic Games mobile game money grab and Clash of Clans ripoff
Closing Remarks
Deathloop sits on the C-Tier alongside other well-known, "better" titles. Why? Because my excitement for those titles is about the same or even less than Deathloop. All of them have something to offer but none have grabbed my attention like those above – even "Outer Worlds"! It's either typical gameplay (Borderlands) or graphics (Contra, Final Fantasy) or even just an aesthetic or theme that doesn't really grab me (Outer Worlds).
I love fresh-looking and polished games. I love games with a theme or aesthetic that resonates with me and my interests. I love games with an interesting story to tell. I appreciate developers that care about consumers and listen to their requests. Elden Ring has a dark fantasy theme and a massive story hook. Cyberpunk has a futuristic dystopia and a "choose-your-own-adventure". GhostWire: Tokyo is a bit weeb-y and a bit occulty. Doom Eternal is a polished skull cup filled with blood fans' hopes and dreams. And lastly, Deathloop is curious affair that rivals pre-existing franchises. I hope all these titles turn out great or even better than how they looked at E3!
Do you have an E3 Tier List? Let me know in the comments below!