The Borg return thanks to Diamond Select. Their Star Trek Select figure based on the robo-baddies is ready to assimilate your collection.
We are the Borg
Probably the best-loved and most menacing of Star Trek: The Next Generation's collection of baddies, The Borg are still a fan favorite today. That's saying something since the villainous collective of cyborgs has not really appeared in the fiction for years.
That makes the latest pick from DST for their Star Trek Select line all that much cooler too. The new Borg figure from the toy-maker isn't really any specific appearance. Instead it's a general "Borg", and a kind of make-your-own drone at that.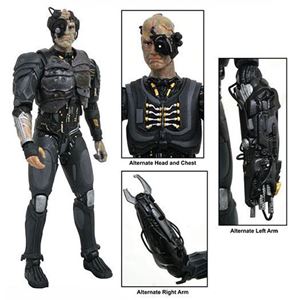 STAR TREK SELECT BORG ACTION FIGURE (SEP182332, $24.99)
Resistance is futile! No Star Trek fan can pass up the opportunity to own the ultimate Borg action figure! This 7-inch, fully poseable action figure is based on the Borg's appearance in Star Trek: The Next Generation, and includes multiple interchangeable parts, including human and Klingon heads, various eyepieces, different tool arms and a removable vest. You can create dozens of different configurations and build an army of Borg! With a full 16 points of articulation, this figure comes packaged in display-ready Select figure packaging with side-panel artwork. Sculpted by Patrick Piggott!

DST press release
So if you're into army building, this one's for you.