So what are Powers of X and House of X? The easy answer is that they're this summer's big X-Men events. And this weekend we got a little more info.
Return to X
If you've somehow not noticed, the X-Men are back and very much in the spotlight in Marvel's comics universe. And in a year where we've already had one X-crossover (Age of X-Man), we're getting yet another one. Or two.
Talked about at the Marvel Next Big Thing Panel at C2E2, summer 2019 will bring Powers of X and House of X. The books will be guided by writer Jonathan Hickman and star the talents of Pepe Larraz, R.B. Silva, and Marte Garcia.
According to Marvel, this is going to be a big X-event as they go. Bigger maybe than we've seen in a while since the publisher is mentioning it in the same breath as Age of Apocalypse, 1991's X-Men relaunch, and more.
The event will actually be spread out into the two six-issue series' you see named here, and will see one issue hit every week starting this July. They will alternate as to which one sees release in which week however. So they're both bi-weekly books essentially.
And as of now, that's kind of all we know.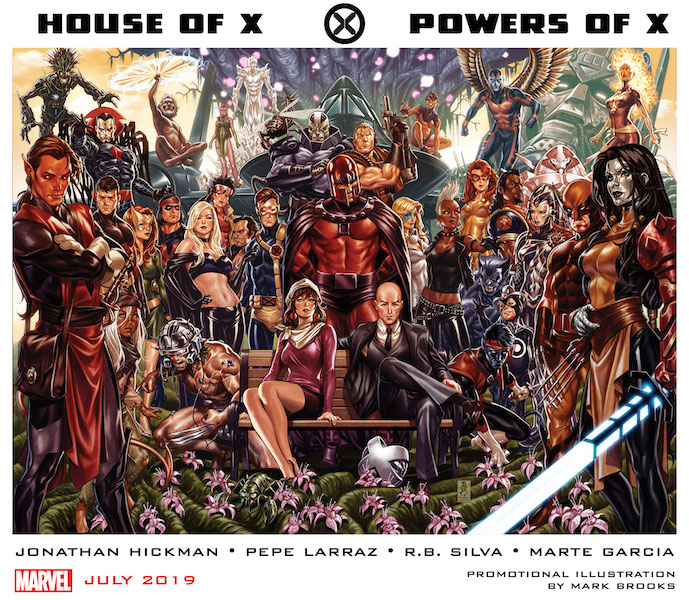 "We are excited to have Jon back with the Marvel family, and we could not have asked for a better creative team to help usher the X-Men into a whole new era," said Marvel Editor-in-Chief C.B. Cebulski. "While we can't reveal too much about the story just yet, these new stories will redefine the X-Men and their place in the Marvel Universe. This is a historic moment both new and passionate fans won't want to miss."


Marvel Comics press release
Stay tuned, lots more to come on these.