The classic reappears. A landmark issue of the original run, Star Wars' 50th issue about to get a second printing from Marvel.
Reprinting a classic
Marvel's original run with Star Wars seems to be a theme that the company is very interested in re-examining. Not only will this year see the printing of the never-run issue #108, which continues the original series, but it'll also see a reprinted issue 50.
From writer Archie Williams, and artists Al Williamson, Tom Palmer, and the legendary Walt Simonson, the issue is set to be a faithful re-issuance. That means that, not only will you get the full story, but you'll also get all the ads. Nostalgia reigns supreme with this one.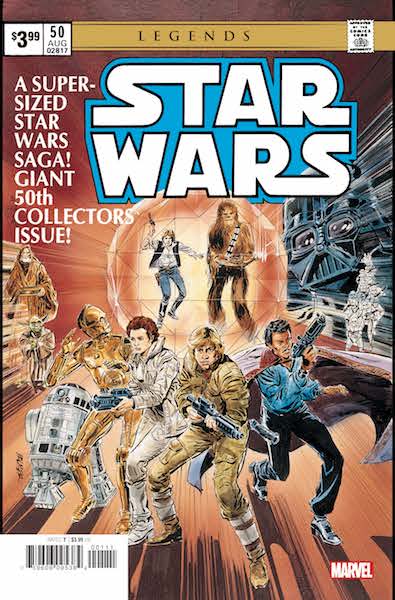 And the full story told here, will play right into the upcoming Star Wars #108.
"So many true comic legends worked on those books- Archie Goodwin, Roy Thomas, Walt Simonson, Howard Chaykin, Al Williamson, David Michelinie, Klaus Janson, Jo Duffy, and so many more. It's pretty overwhelming to think about, actually. What they made was the product of a very different time in comics, and it's something modern audiences aren't really accustomed to. So while it would be fun, if a little humbling, to try and just impersonate them, we wanted to do something a bit different, something that would appeal to classic and modern fans alike," Matt Rosenberg told Comicbook.com of writing STAR WARS #108.

Marvel Comics press release
Two books, decades apart
The new issue (108) is a direct sequel to issue 50 of the original run. So thanks to the re-print, you can grab both parts of this saga, which has apparently been decades in the making.
This is it for that original run though. Issue 108 is a capper, with no further comics planned. Instead, Marvel will return to the modern books in its Star Wars series. So there's plenty more Star Wars to come, but this is a one time treat.