Mondo's yet to be released 12″ line of Masters of the Universe figures gets a little bigger with the Previews exclusive Faker.
Faked out
I feel like there's always a Faker, really early in any Masters of the Universe toy line. Matty Collector's MotUC line had him in it's first full wave while the original lineup saw him arrive in wave 2. Even Super7's line of Masters ReAction figures had a Faker.
It's easy to see why of course, since he's effectively just a repaint of He-Man with some Skeleton parts and a sticker. It's a pretty simple way of getting another figure out without all that much on the tooling end.
Though, even with that in mind, he's still a cool character and an iconic one at that. So it's with some excitement that Mondo has announced a version of the evil, He-Man impersonating bot.
Joining Mondo's line of 1/6th scale figures is Faker in all his blue-hued glory. As with He-Man and Skeletor, Faker will have 30 points of articulation, fabric elements, and plenty of accessories, including: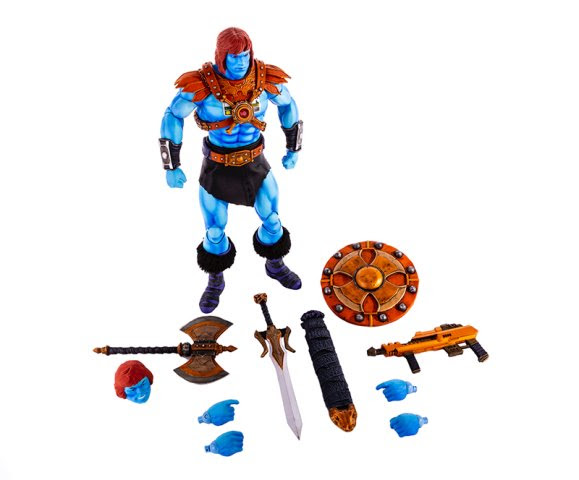 Regular Portrait
Vintage Portrait
Power Sword
Sheath
Shield
Battle Axe
Rifle Blaster
6 interchangeable hands
figure stand
As with the rest, Faker won't be cheap either. He clocks in at $160 USD, which is high, but not outrageous for a 12″ collector figure. He's coming up this year too, with a June 26th release date.
Faker is available for pre-order right now.