If you're still looking to buy a Nintendo Switch, then you're in for a little gift from Nintendo that'll give you a head start on your gaming library.
Cool cash
"We wanted to make it easier for consumers to purchase their first game after picking up a new Nintendo Switch system," said Doug Bowser, Nintendo of America's Senior Vice President of Sales and Marketing. "New Nintendo Switch owners can explore Nintendo eShop and use the bonus $35 credit toward the purchase of a game that's perfect for them."

Nintendo press release
Now, one caveat before we go any further. That's that this is a special deal "pack". So it's not just any Switch that you have to buy to get this credit. You'll have to look for the labeling in the photo that you see here. But if you do, and you buy one of these specific Switch packages, you'll get a pretty cool download code.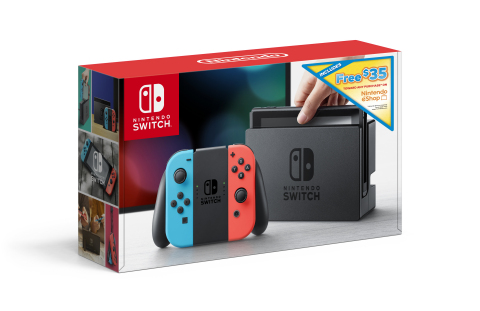 The code nets you a $35 USD credit to Nintendo's eShop, where you can pick from a pretty wide swath of games. Yes, it's a weird number that Nintendo seemingly pulled out of… the ether, but it's still pretty slick. And it'll cover a good deal of the stuff out there.
That's not to mention what's coming up either. Don't forget that March will see Yoshi's Story released, and the month after that will bring Mortal Kombat 11. That $35 will take a good chunk out of the price tag on either of those.
Keep your eyes open, the $35 Nintendo eShop Credit Switch Bundle will land at retail on February 15th. It'll be available while supplies last.