There's a heaping helping of the apocalypse coming up in 2019 from publisher Udon. Darksiders III gets a fresh book, while the previous games' books get reprinted.
Art of apocalypse
The end of the world has rarely looked as cool as it does in Darksiders. The series is stylish to the extreme, thanks to the designs of comic book artist Joe Madureira.
If that name strikes a familiar chord, it's probably because Joe Mad was a very well known artist. He's done X-Men work for Marvel Comics, as well as crafted his own universe with the Battle Chasers. And of course, he's had a huge hand in Darksiders.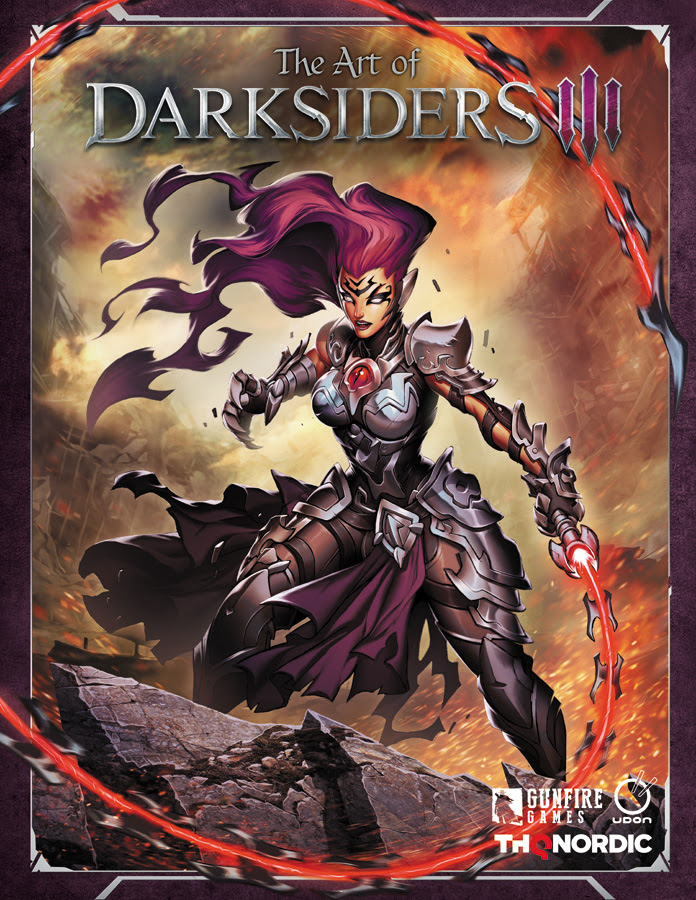 Pretty much the entirety of Gunfire Games' Biblical/fantasy universe has been crafted by Madureira, and that includes Darksiders III. Just released last Holiday, DSIII showcased Fury, the third Horseman.
Fury, the fiercest of the Four Horsemen of the Apocalypse, has been tasked with capturing the Seven Deadly Sins to maintain the delicate balance between good and evil. With her deadly whip, Scorn, in hand, the Rider of the Black Horse battles her way from the heights of heaven to the depths of hell, aiming to prove that she is the most powerful of the Horsemen.

Udon press release
Now Fury and her adventure will be subject of an art tome from Udon. Expect to see "character art, rough concepts, environment designs, storyboards and more" included in this hardcover presented edition.
It's set to arrive this July the 2nd. But it won't be alone.
Re-releasing the end of days
Joining Fury and the Darksiders III art book will be reprints of the original two. The books featuring War and Death's quests have been out of print for a while, so this is a brand new chance to pick them up.
Each is laid out in much the same way as Fury's will be. That means they both will have plenty of art and world-building elements included for your perusal.
The Art of Darksiders is set to hit pretty soon too, on May the 7th. As for The Art of Darksiders II, that'll arrive on June 4th. Lots to like yet in 2019 for Darksiders fans.