The second installment of Dark Horse Comics' God of War mini-series doesn't improve on the first, and is likewise probably not worth your time.
In my last review, I hoped the comic quality would get better. However, this issue was even worse than the first issue. The art is bad, the story is uninteresting. The only reason you'd read this is if you really have no standards or are a blind God of War fanboy.
Premise

Kratos fights off the werebears and seeks to end the last of them, with Atreus guiding him to the seer who can help. It's a very straightforward story, that takes few turns.

Art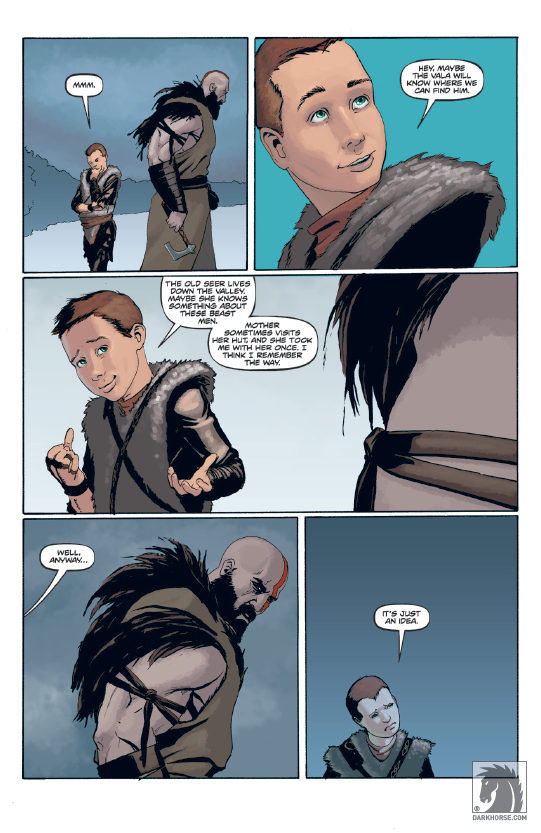 The only art that is good is the cover art. And that is legitimately good, as E.M. Gist did a stunning rendition of the Greek god and his boy surrounded by enemies.
The art in the comic however is subpar, with proportions and flat colors and backgrounds all over the place. The same shading brush is used for coloring everything – nothing really has its own texture.
It's like someone did outlines in MS Paint and then dabbed the colors in with a sponge. There is little to no depth in any panel, no depiction of volume good enough that I'd consider this even an "okay" comic anymore.
The onomatopoeia (sound words) are also used carelessly. Little attention is paid to their appearance or placement. It's all so mediocre and unprofessional. The panels are at times jarring, confusing, or outright boring – the fight scenes are full of rhomboids!
Writing
Both father and son (Atreus) are pretty much the same characters you might be used to if you've played the God of War video game. Kratos fights, controls his rage and tries to guide Atreus. It's all very familiar.
Along those lines too, Atreus has his own fears and lack of confidence. He basically tries to live up to Kratos' expectations. Although when he thinks he might be able to impress his dad, he tries.
As you might have gathered, no chances were taken here, and nothing deviates much from the path that God of War on the PS4 trod.
Overview
God Of War #2 is where I'd stop reading this series. The art and story is not good enough to pull me through as a reader. It'd be better to invest your money elsewhere in other God Of War properties. Maybe you could buy an axe to grind instead?
A review copy was supplied to BrutalGamer by Dark Horse Comics
God of War #2
Release Date: December 12th, 2018
Format: Mini-series
Publisher: Dark Horse Comics
Writer: Chris Roberson
Artist: Tony Parker
MSRP ($): $3.99 USD
Characters - 45%
Story - 30%
Art - 20%
Dialogue - 50%
Dark Horse has bungled the God Of War IP. The art and story is poor and tarnishes the impact the PS4 game has made.