What fresh horrors are coming to Marvel's Uncanny X-Men in 2019? The publisher teased something (possibly) Cyclops-centric today with Devastation.
What was
Despite the focus, the first thing that hit me with this preview image that Marvel shared today  was the backdrop. Seeing the Jim Lee, 90s-era X-Men again is always fun, in any context. It's easily my favorite version of the team, and one of the most enduring. Heck even recent Marvel Legend action figures have played off of the designs.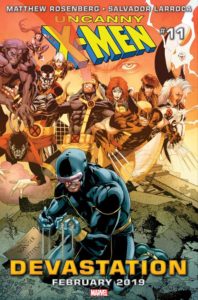 One of my least favorite Cyclops costumes (and eras) however, is the one featured in the foreground. Dull and drab, it's only a bit more interesting than the abysmal suit that had the red 'X' across the face. That one has has a category of 'no thanks' all to itself.
There's an interesting question in there. Just why is Cyclops back in his penultimate suit? Actually, there's another question; how is Cyclops back at all? Isn't he dead?
Then again, this being Marvel, it's probably best just to accept that he's back and go from there. From the looks of things too, he's may be looking to recapture his former heroism. One can hope anyway.
From the team of Matthew Rosenberg and Salvador Larroca, Devastation! arrives in Uncanny X-Men #11, this February of 2019.