Green Lantern fans waiting for one to hit Mezco's One:12 Collective finally have one. Classic Lantern John Stewart is up for pre-order.
Green power
One of the oldest Lanterns in the DCU, John Stewart is second only to Hal Jordan himself in terms of tenure. Not only has he been around for a while, but Stewart has become a real fan favorite.
His popularity skyrocketed after he starred in the Justice League animated series, and it's pretty much stayed that way. Depending on who you're listening to, he might even be featured opposite Jordan in a big budget Lanterns movie. So it's understandable then that he's the first Lantern chosen for the One:12 Collective.
Not that I wouldn't have wanted a Hal Jordan before Stewart, but if he's who we're getting first, I'm down. As usual with the One:12, this figure will be packed in with a bunch of cool accessories. And as we've seen lately, he'll sport light-up features as well.
You can expect John Stewart to arrive some time in the May to June (2019) timeframe, and you can pre-order one here.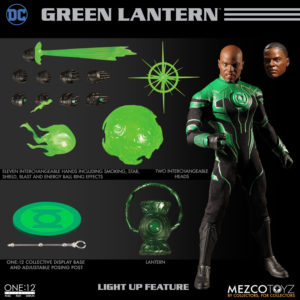 THE ONE:12 COLLECTIVE GREEN LANTERN FIGURE FEATURES:
One:12 Collective body with over 32 points of articulation
Two (2) head portraits
Hand painted authentic detailing
Approximately 17cm tall
Eleven (11) interchangeable hands

One (1) pair of fists (L&R)
One (1) pair of posing hands (L&R)
One (1) pair of flying hands (L&R)
One (1) lantern holding hand (L)
One (1) smoking ring effect hand (R)
One (1) star ring effect hand (R)
One (1) blast ring effect hand (R)
One (1) shield ring effect hand (R)
COSTUME:
Fitted suit with 3D chest insignia
Wrist gauntlets
Combat gloves
Mid-calf boots
ACCESSORIES:
Power Battery with ring activated light-up function
Energy Ball FX
One (1) One:12 Collective display base with logo
One (1) One:12 Collective adjustable display post