Publisher Dark Horse Comics is digging ever deeper into Blizzard's StarCraft video game universe. A second series, StarCraft: Soldiers has been announced for 2019.
StarCraft goes back to the printed page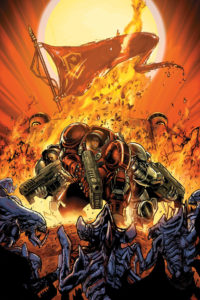 Did you read StarCraft: Scavengers? The miniseries was the first for Dark Hrose that featured the Blizzard IP, and seems to have made an impact with fans. So much so, that the company has announced a second mini, entitled StarCraft: Soldiers. And this one looks to co-star the hideous Zerg.
In StarCraft: Soldiers, recently graduated Lieutenant Shivani Singh is eager to defend the Dominion on the front lines. But after she's posted on the faraway planet of Cavir,  she realizes that it will take more than good grades and confidence to survive on the edge of zerg space.
The first issue of the book is en route for a January 23, 2019, and has a solid creative team attached. Jody Houser will be writing this new tale, with Blizzard's own scribe Andrew R. Robinson on hand to assist in sculpting the narrative. On the artistic side of things, you'll find Miguel Sepulveda, who you might know from DC Comics' Red Lanterns series.
While we're talking StarCraft too, you're going to be get gin a second crack at Scavengers if you missed out. The series is being collected into a graphic novel format. That'll be hitting in quarter one as well, on February 19, 2019.