Jen Bartel will be lending her pencil to the first of the sure-to-be onslaught of variant covers for Marvel's upcoming Uncanny X-Men #1.
Girl crew
Uncanny X-Men is back. For years now, we've had a stable of Marvel comics that've lacked the flagship X-Men book. Sure we had Astonishing, as well as the Blue and Gold (and Red… I guess) books, but not having a book branded with "Uncanny" just seems wrong. Well, that's all in the rear view as of this November.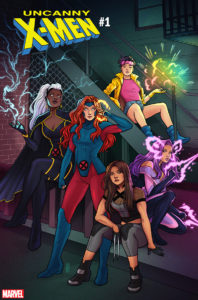 Marvel is welcoming the key title back onto it's publishing schedule as of a little under two months time, and will be doing so with a bang.
This November, UNCANNY X-MEN returns with a new ongoing series, bringing together nearly every mutant left on earth in a story that threatens to destroy them. It's an epic tale of mystery and tragic disappearance, with an adventure so earth-shattering, it could very well be the X-Men's FINAL mission!
Well… I don't think there's much of a chance that this is the X-Men's final mission. Not only is the best-loved x-book back, but there have been rumors as of late that there's a major crossover event on the horizon, in the style of classic x-events. That's to say big and explosive.
While that's still all rumored, Uncanny X-Men #1 is here now, or it will be soon. And of course, being a huge release, Marvel will have some variant covers on hand. The first is from artist Jen Bartel, and as you can see stars some of the biggest X-women from the merry mutant pantheon.
So have a look at that, and I'm sure well be back some time very soon with a variant cover roundup for you to peruse as well.