The world of Diablo is about to enter the comics universe with a new mini-series from Titan Comics. The Burning Hells are coming some time this year.
The Hells expand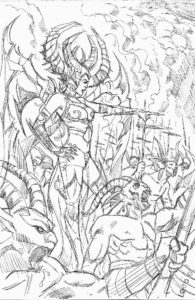 Following up on the first two games, Diablo III certainly added a lot more backstory to the universe that Blizzard created. Still, there's ample room for further exposition. Even though Diablo is an action/RPG, I've always found that information about the world that it plays out in was scarce. Though that's about to change.
Titan Comics will be publishing the new comic book mini-series, which will delve into a story that sounds pretty darn cool – the origin of humanity in the Diablo universe.
Written by Marv Wolfman (Blade, Crisis on Infinite Earths) and illustrated by Piotr Kowalski (Wolfenstein), DIABLO will launch with a four-part miniseries in 2018. The comics will follow a group of zealous scholars and crusaders as they discover the true origins of humanity. Will their faith survive these shocking revelations?
As a fan myself, I'm down for this right now. The story sounds cool, and the art looks very promising indeed. With the book debuting this year too, we won't have to wait very long for that first issue. As to that, Titan and Blizzard promise that there's much more to come very soon, so stay tuned.