As Turtles stories go, Shredder in Hell is pretty unique. The TMNT's arch-villain is heading to the nether realm, embroiled in a conspiracy of the divine.
Shredding hell
What does a super-villain do when he finds himself trapped in hell? Shredder is about to find out thanks to IDW. Taking place in IDW's comic book Turtles universe, and serving as a spiritual successor to a fan favorite storyline, Shredder in Hell is set to seriously expand TMNT lore.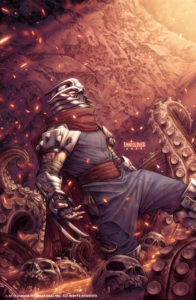 The book does send Saki to the afterlife, there's no doubt about that. What it also does though, is show the villain his "true purpose". Though, I have a feeling that it might just be Shredder's interpretation. One thing we know as well though, is that he'll discover "the origins of the great beings responsible for both destruction and creation in his world." Now that sounds all kinds of cool.
Group Editor Bobby Curnow says, "Shredder in Hell is in many ways a spiritual sequel to the beloved Secret History of the Foot Clan. There's one crucial difference: whereas before Mateus was just coming into his own as a creator, he is now, five years later, working at a master class level. The art he is producing is unreal, and the story is surprisingly deep and reaches to the core of IDW's TMNT universe."
Mateus Santolouco will be helming this one, both writing and illustrating it. That's a monumental task, but it sounds like he's more than up for it.
"I'm very humble and thankful to help expand the rich universe of TMNT, adding new layers to the Turtles' main villain," says Santolouco. "We're not only revealing Shredder's role in a conspiracy of divine proportions, but we'll have a better understanding of his fears and ambitions. Oroku Saki is more human than ever… and this will only make him an even stronger force for the TMNT to face."