Another excellent week arrives for Nintendo fans, as the Switch gets a dose of Mega Man X, along with a selection of Indies.
Mega
Mega Man X is a series that's maybe even more neglected by publisher Capcom than the base Mega Man one is. It always seems as though they're talking up the latter, while completely ignoring the former. Not that there's a reason for that, since X is pretty amazing all by itself. Now there are some rumors of a new entry in that series though, and of course, this collection.
Releasing on Switch today is the full Mega Man X series, and it's a set of games that you should most definitely look into. 16bit action games don't get too much better than these.
Aside from X though, there are no other big name titles arriving this week, just a gaggle of Indies. That includes Bomb Chicken, which we reviewed here, and games like Lost Phone Stories, and Werewolf Pinball.
Here's the full listing:
Nintendo eShop on Nintendo Switch
Mega Man X Legacy Collection – The celebrated Mega Man X series returns. Play as Mega Man X – the powerful successor of classic fighting robot Mega Man – as he battles a variety of deadly bosses known as Mavericks in four hit titles. Mega Man X Legacy Collection includes the legendary 16-bit titles and the series' exciting foray into the 32-bit era: Mega Man X, Mega Man X2, Mega Man X3 and Mega Man X4. Test your skills in the new X Challenge mode, which pits players against two deadly bosses in two-on-one battles. The Mega Man X Legacy Collection game launches for the Nintendo Switch system on

July 24

.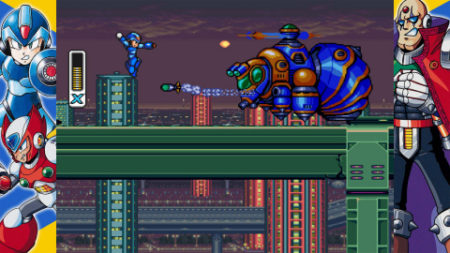 Mega Man X Legacy Collection 2 – Complete the Mega Man X saga with this collection of four action-packed titles. Spanning two gaming eras, this collection showcases the evolution of the series with Mega Man X5, Mega Man X6, Mega Man X7 and Mega Man X8. Both Mega Man X and his ally Zero return as playable characters, allowing players to jump and shoot through challenging stages with X's arm cannon, or slash through enemies with Zero's energy saber. The Mega Man X Legacy Collection 2 game launches for the Nintendo Switch system on

July 24

.
Bomb Chicken – Who doesn't love chicken… especially when it's smothered in delicious blue hot sauce? After a freak accident a seemingly ordinary chicken becomes a bomb-laying, free-range hero. Explore the versatile mechanic of laying bombs in this explosive exploration platformer, and answer the ultimate question: Which came first the chicken or the bomb?
Nintendo eShop on Nintendo 3DS
WarioWare Gold Demo – Wario has a special treat for you! Better think fast if you want to succeed in this demo of his upcoming WarioWare Goldgame. You'll use the touchscreen, tilt the system and push buttons as you laugh your way through the fully voiced story introduction, featuring new and classic characters!
Activities:
The Second Nintendo Labo Creators Contest: Enter for a chance to win a specially designed, collectible cardboard-inspired Nintendo Switch system, Nintendo Labo Creators jackets and more. The contest runs

July 19 at 11 a.m. PT

through

Aug. 20 at 10:59 a.m. PT

. For more details about how to enter, please visit https://labo.nintendo.com/share/#!/contest/.
Octopath Traveler My Nintendo Rewards: To celebrate the launch of the Octopath Traveler game, My Nintendo is offering eight different box art covers (one for each of the main characters) for the case of your Octopath Traveler game (sold separately). Redeem your points and choose your character for your box art cover! Plus, we're also offering downloadable wallpapers for your PC or smart phone. Check out the details at My Nintendo: https://my.nintendo.com/news/6b677325fde74ff4
Pixel Toads Lead to Platinum Points: Captain Toad is starring in his own puzzling quest in the Captain Toad: Treasure Tracker game for the Nintendo Switch system and the Nintendo 3DS family of systems. My Nintendo members can join the adventure with a special "hide-and-seek" mission to earn My Nintendo points. Here's the mission: Log in to My Nintendo, then find all four Pixel Toads hidden on the official game website and earn 100 Platinum Points – that's 25 Platinum Points for each Pixel Toad you find. Good luck!
Celebrate the One-Year Anniversary of Splatoon 2 with a Splatfest and My Nintendo:

July 21

marks the first anniversary of the Splatoon 2 game, and we're celebrating with a global Splatfest! Which sea creature is your favorite, Squid or Octopus? This hotly contested Splatfest will occur from

9 p.m. PT

on

July 20

until

9 p.m. PT

on July 21. To help celebrate, My Nintendo is offering Inkling and Octoling printable posters, as well as downloadable wallpaper. Redeem your points for these rewards today.
Nintendo eShop sales:
Nintendo eShop on Nintendo Switch, Nintendo 3DS and Wii U
Also new this week: