Looks like the Asgardians of the Galaxy are indeed on the way, replacing the Guardians this fall. The team is a heavy-hitting squad too, though Jane Foster is nowhere to be found. Maybe.
Asgardians are go
I'm a little surprised, okay a lot surprised, that Jane Foster isn't on this team. It kind of seemed like a no-brainer, with Marvel returning the real Thor to action, and Jane Foster seemingly just hanging out. She could have easily been plugged into this team as a new wielder of an Asgardian weapon, maybe one that kept her permanently in her demigod-like state.
But that was not to be. Jane is nowhere in the preview material (or is she?), which nevertheless sees a murderers row of Asgardian heroes. While most are names you know, there's a new Thunderstrike, who's the son of original 'Strike Erick Masterson, and a fresh Frog of Thunder. Yes, you're reading correctly.
So who else is on the AotG? Well…
Introducing The Asgardians Of The Galaxy!
An epic new series by Cullen Bunn and Matteo Lolli, coming this September!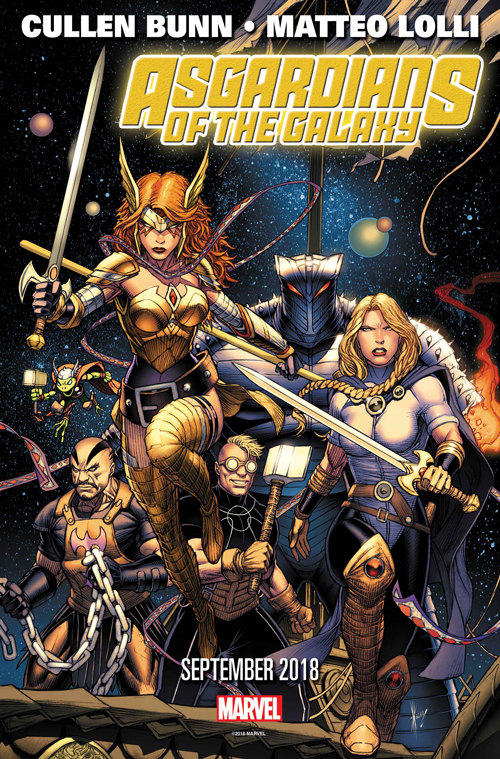 Spinning out of the events of INFINITY WARS comes an epic space
opera from the superstar team of Cullen Bunn and Matteo Lolli!
ANGELA, the not-so-beloved half-sister of Thor.
The hotheaded VALKYRIE – and the human who shares her form, Annabelle Riggs.
SKURGE the EXECUTIONER, freshly returned from Hel.
THROG, the mightiest frog of thunder.
Kevin Masterson, the boy who took his father's mace to become the hero THUNDERSTRIKE.
And the DESTROYER, the Asgardian armor built to take down Celestials – its wielder unknown.
The Galaxy has new Guardians!
Pretty cool, all things considered. I like the makeup of this squad a lot, and the characters chosen are mostly solid. Thunderstrike's look could be a lot better (he looks like Strong Guy), and the frog is a little iffy, but otherwise this looks great. I'd also keep my eye on the Destroyer. Never know who might be piloting it (*wink*wink*).