Two Spider-Men? That's just what the first trailer for Sony's Spider-Man: Into the Spider-Verse has up its webbed sleeve. Well, and maybe a few villains and a Spider-Woman too.
Into the Spider-Verse
There are more than a few things to take away from that first trailer. And plenty of interesting things about this upcoming feature, especially for Spidey fans.
For starters, this looks like it plays directly off of the Spider-Verse event(s) in the Marvel Comics. While it doesn't seem like there's a direct translation here, the basics are present. Namely, that there are multiple Spidey's, Gwen, and the Ultimate Universe in full effect. That last bit is evident from the monstrous appearance of one Green Goblin. His dragon-like form was exclusive to that ill-fated U.
With Gwen there too, it definitely seems as though there's a fair bit of universe-hopping that'll be in the cards. And that could even include the version of the classic web-head that we see. Peter flat out looks like the 616 Universe version of the character, since he's an adult. Remember that the Ultimate Universe Pete was relatively young, right up to his death.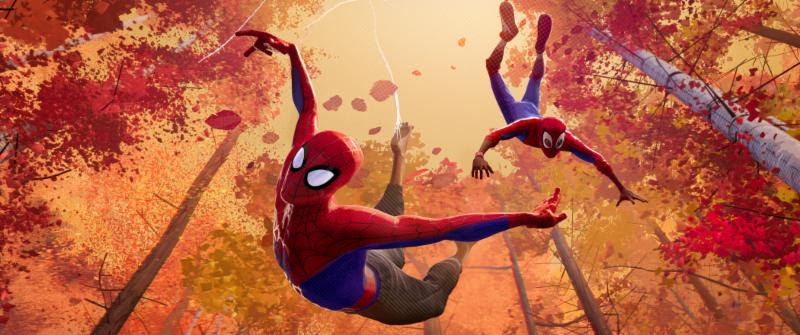 As for the talent behind the characters' voices, that's pretty substantial. Sony has announced that the list includes Jake Johnson as Peter Parker and Liev Schreiber playing the Kingpin. Right along side them will be "Hailee Steinfeld playing the spunky, free-spirited Spider-Gwen, Oscar® winner Mahershala Ali as Miles' influential uncle Aaron, Brian Tyree Henry playing Miles' father Jefferson, Luna Lauren Velez as Miles' mother Rio, and Lily Tomlin as Aunt May". And Miles himself? That'd be Shameik Moore.
Set to arrive right smack in the middle of the Holidays, Spider-Man: Into the Spider-Verse is scheduled to arrive in theaters on December 14th.