Did you miss out on one of the best new superhero IPs in recent years, Black Hammer? Or are you already a big fan? Either way, you might be happy to know that there's a jumbo, Library Edition on the way. And it collects the first series in the new Dark Horse-published universe, and then some.
Hammer time
"I couldn't be prouder of this deluxe library edition," explained Black Hammer co-creator Jeff Lemire. "I love the world of Black Hammer so much, and I love seeing the stories Dean and I worked so hard to create collected in such a gorgeous volume."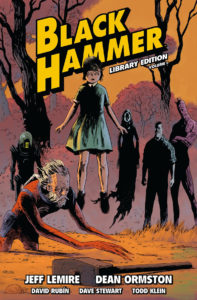 Lemire is referring to Dean Ormston there, as the pair worked together to build the world of Black Hammer. And what a world it is. Playing off of classic superhero stories and characters-types, Black Hammer nonetheless presents something entirely new. And with it, a heady mystery.
Mysteriously banished from existence by a multiversal event, the old superheroes of Spiral City now lead simple lives on a bizarre farm from which there is no escape! But as they employ all of their super abilities to free themselves from this strange purgatory, a mysterious stranger works to bring them back into action for one last adventure!
Black Hammer: Library Edition Volume 1 will collect the entire 13 issue run of the original book. But there'll be a lot more here for those who're already into the series as well. Fans can expect to see the annual issue, a sketchbook, and "more". It'll also feature "art by Dean Ormston, David Rubín (Ether), Dustin Nguyen (Descender), Emi Lenox (Plutona), Nate Powell (March), Matt Kindt (Mind MGMT), Ray Fawkes (One Soul), and Michael Allred (Madman). So, a lot to like there.
Weighing in at a whopping 408 pages, Black Hammer: Library Edition Volume 1 is set to hit stores on October 24th. It'll run you $49.99 USD.