Sun, sand, sports, and Street Fighter. Publisher Udon's celebration of all of the above has hit pre-order at comic shops.
It's summer time!
Volleyball! Basketball! Surfing! Swimming! The lovely ladies of Street Fighter are back for a new summer sports-themed pin-up special! Veteran World Warriors like Chun-li, Cammy, Rainbow Mika, and Sakura welcome newcomers Menat, Kolin and more!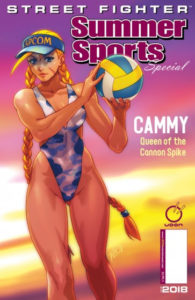 Swimsuit specials were much more common in decades past, but Udon is still rolling with the trend. Their Street Fighter Summer Sports Special is almost here, and is packed with pinups of the World Warriors on holiday.
It's also going to be packed with work from some of the company's top artists. And that's a roster that will extend to the covers, of which there shall be a few variants. All three covers will sort work from Rob "Robaato" Porter. Who's on them? That'd be Chun-Li, Cammy, and Menat. On top of those, there'll also be a special cover exclusive to Focus Attack, which will feature Chun-Li, in an "Album" style image.
Want more? Well there'll be the standard blank "sketch" cover too, and one from Jeffrey "Chamba" Cruz that'll be exclusive to a retailer. As to which shop will be carrying it, that has yet to be unveiled. What we do know about it though, is that it "homages a classic comic cover from the 1960's". If you're familiar with how Udon riffs on classic comics, then you should keep an eye out for this one.
All of the above will land day and date on August the 8th. That's when Street Fighter: Summer Sports Special #1 will hit stores.