People like Hellboy. That's an apparently fact, since the Kickstarter for Dark Horse's new Hellboy: The Board Game shattered it's "goal" in just a few minutes time.
Hell comes to the tabletop
Based on the Hellboy universe from creator Mike Mignola, this new board game from Mantic Games is a cooperative title. The title pits players against big baddies from the comics, including the ever-popular Rasputin.
You'll play through the presented adventure with the likes of Hellboy himself, and also Liz, Abe Sapien, Roger, and more. Apparently the gameplay will focus not just on fighting villains, but also locating artifacts and digging around series locales.
There's a nice pedigree behind this too, since Mantic is assembled by people who've previously worked on major tabletop titles. The team counts the likes of Warhammer Quest: Silver Tower, Necromunda: Underhive, and Blood Bowl 2016 as past projects. Those are all big games, and might give some hints as to what we'll be seeing from Hellboy.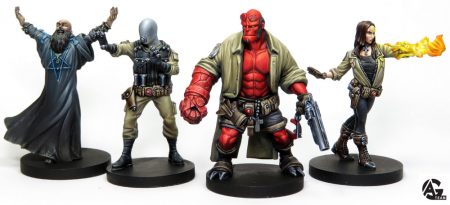 This game is money
"We have been overwhelmed by the incredible support of Hellboy fans," said Ronnie Renton, CEO of Mantic Games. "This is already shaping up to be one of our most successful Kickstarter campaigns ever and we've still got several weeks to go. We're planning to add more infamous adversaries and iconic agents as the funding continues to rise!"

"Congratulations Mantic Games," said Mike Mignola. "Clearly the fans have spoken!"
Presumably, "rise" it will. The Hellboy game hit its $140k USD target in a stunning 18 minutes, and still has 27 days to go, as of this writing. More than seven thousand backers made that happen, by the way, and the game is currently sitting at well over $1.1 million in funding. That's pretty impressive, and also goes to show you the power of a platform like Kickstarter.
Honestly, it looks pretty great. Hellboy: The Board Game includes a ton of miniatures, more as stretch goals are hit, and has multiple environments to play in. Oh, and lots of enemies to shoot/beat on.