Koshchei The Deathless continues after the reveal that the last dragon Koshchei must kill is his master. While the art of #3 falls just short of the previous issues, it has enough story and development to carry it up. #4 has some great fight scenes, sets up a decisive battle for the forthcoming issues and brings the artwork back up to its perfect standards.
Story
The last issues of Koshchei The Deathless led him on a journey with a selection of his most trusted mercenaries. Koshchei, in an attempt to regain his humanity, sets out to complete the task Baba Yaga has given him. She told him that by killing the last of the dragons he could regain his heart by stopping the dragons from returning and destroying mankind. However, Koshchei was unaware that his master is the last dragon, and after killing his master's wife and children Koshchei must now face his grieving master.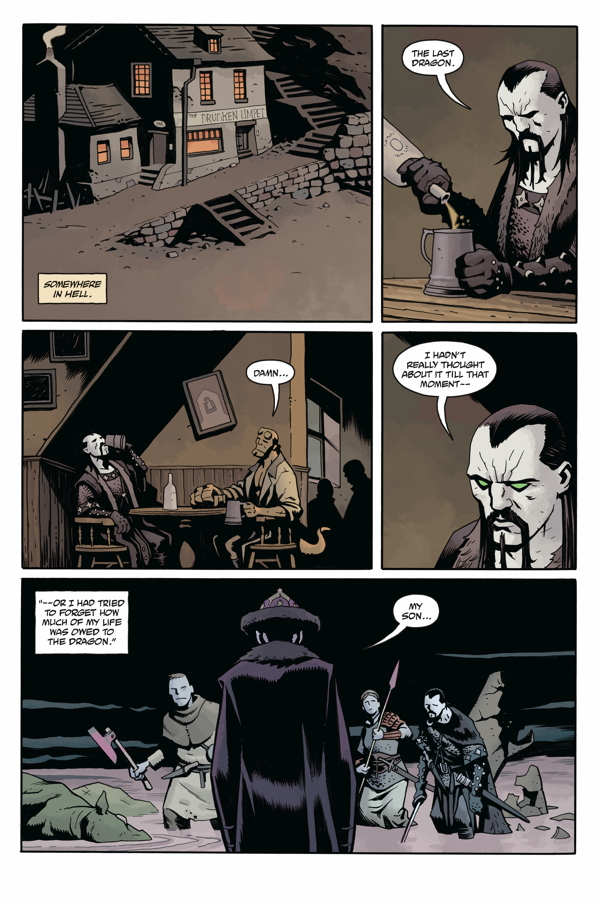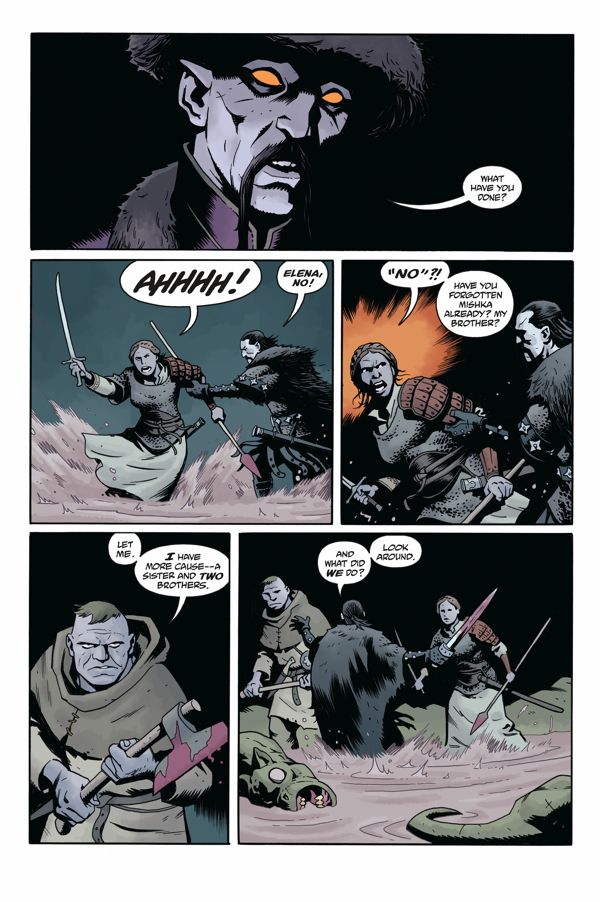 Characters
Koshchei
One can sympathize with Koshchei as his human heart flutters between cold and distant as well as longing for something fulfilling and love. As such he is a bit of flip-flopper. In the story he has periods of complete immorality and ruthlessness after periods of him caring for his companions or "humoring" his human heart. This may cause the reader to feel he is disingenuous but for the most part they provide the necessary parallels into his supernatural character.
Baba Yaga
More motivation and drive is given to Baba Yaga's character. She is greedy for power and seeks terrible vengeance against those who do not give it to her. If she cannot have the power others hold, she destroys them. She will use any means such as trickery and deception. She had told Koshchei to kill all the dragons to regain his human heart but that included his master – the being Koshchei saw almost as a father and that she saw as a threat to her own power.
Plot
The story goes deeper into Koshchei's master's origins and the reasoning behind Baba Yaga's actions. Baba Yaga and Koshchei's conflict pull the story along while Koshchei deals with remnants of his lost humanity.
Dialogue
As always the conversations and narrations are written wonderfully. I love being able to just read and naturally hearing different characters' voices. Some care is given to the way the words are written and illustrated to get the emotions and delivery across. Speech bubbles are given thicker, colored borders for emphasis or wispy tails for a weaker whisper. Subtlety really makes Hellboy comics great reads.
Art
Great as usual. These issues are very colorful as the action ramps up and the perspective of the frames are used to great effect often adding that finer touch to emphasise the emotions of the characters or atmosphere of the scene.
Overall
Koshchei The Deathless continues to be an entertaining series with great story-telling and excellent illustration. The last 2 issues have been set up to be the climax of the story and I eagerly await the fireworks!
Top tier storytelling
Art - 85%
Story - 90%
Dialogue - 95%
Characters - 85%
Strong story telling and great art keep Koshchei at the top!