Classic Terminator action is the focus of writer Brian Wood's new mini-series for Dark Horse Comics. Terminator: Sector War will return to 1984, but shift the mechanical terror to the streets of New York City.
You're terminated
Many are familiar with the story of The Terminator's time-traveling quest to 1984 to kill Sarah Connor in Los Angeles. Adding a new spin to the timeline, Terminator: Sector Wars follows a second Terminator sent to 1984 New York City to take out NYPD Officer Lucy Castro, a rookie cop assigned to one of the worst sections of the city. When she faces off against the relentless T-800, she will have to rely on unlikely allies to survive till dawn as the machine that never sleeps stalks his prey through the city that never sleeps.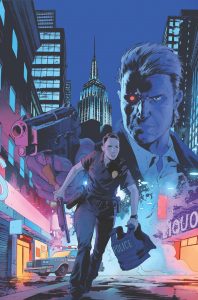 Of course, there are a whole mess of questions about this one. Maybe the biggest being "who is Lucy Castro"? Time-travelling Terminator stories always rely on there being a target that's important to the human resistance of the future, so odds are that Castro is an ancestor of someone fans might know.
In any event, this is a mini to watch for a few reasons. Brian Wood is a celebrated writer who's done both Brigg's Land and Aliens: Defiance for Dark Horse. But that's not all. He's actually also worked on games like Max Payne and the Grand Theft Auto series. As for artist Stokley, his probably isn't a name that you know as well as Wood's. Google his work if you get a second though. Quite frankly, it's some very cool stuff.
Maybe the biggest reason to look forward to this though, is that it's old school Terminator. You've got a T-800 stalking its prey on the streets of NYC in the year 1984. That's pretty slick right there, and could be a real high-water mark in the realm of Terminator comics. And that's a good thing, 'cause let's be honest, there isn't much to look forward to in the way of Terminator movies.
Terminator: Sector Wars #1 (of 4) lands on the racks on August 15th.