Green Arrow is in for a world of hurt this summer, as the new creative team of Julie Benson and Shawna Benson will put him at odds with the Suicide Squad's boss – Amanda Waller.
Task Force Arrow
Going head to head with the Suicide Squad's boss will be Green Arrow this August, as Julie and Shawna Benson take the reigns of the ongoing DC book. Currently the sister act is penning the Batgirl and the Birds of Prey series, but that's coming to a close this May. So they'll be freed up for a run with the Emerald Archer.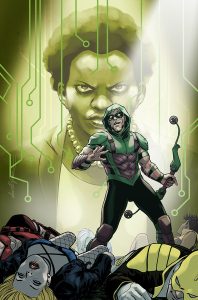 Not that the Benson's will be leaving behind all their characters from that series, as Black Canary will be very much a force in their GA title.
"As we mourn the loss of our beloved Birds, hope in the form of an arrow has struck us through the heart with the opportunity to take on Oliver Queen," said Julie Benson and Shawna Benson. "Ollie's made a few appearances alongside the Birds since we began writing at DC with Rebirth, and we can't wait to continue making our mark on the 77-year old marksman this summer. And we won't be leaving our ladies behind! Black Canary, aka Ollie's "Pretty Bird," will continue to star in GREEN ARROW."
The sisters' run will technically begin with issue #43 this August. But they'll get a slight jump on that with the Green Arrow Annual. That book is set to ship in May, and will be the one that sets the Arrow against Waller.
The Annual will feature art from Carmen Carnero and a cover by David Lopez. That's while the Bensons run on the proper Arrow series will star artist Javier Fernández on interiors and the talents of Alex Maleev for the covers.
Here's a preview of what's to come:
In GREEN ARROW ANNUAL #2, entitled rich-boy Oliver Queen grew up a member of elite society. But after a drunken escapade left him stranded on a deserted island, Oliver learned to survive and become more than a man—he became a hunter. He became a survivor. But when Green Arrow comes face-to-face with a challenge he never saw coming, his entire worldview—his reason for being a hero—comes into question. Because that challenge has a name: Amanda Waller!