Get ready for an onslaught of Marvel movie goodness, as Infinity War is finally upon us. And you better believe that DST has plenty of stuff heading to stores.
Infinity
This is the big one. The entire Marvel Cinematic Universe has been building towards the adaptation of the Infinity Gauntlet saga from the very beginning, ten years back. And now, we're almost there. The spectacle movie is landing in theaters next month. You know what that means? Toys. It means toys.
And I mean lots of toys, in this case from Diamond Select. The collectable company has a monster slate of goodies on the way, from Minimates to statues and everything in between. Diamond has forwarded a list of what's coming up to us, and if you've been waiting patiently for Infinity War, you're going to want to see it.
Some of the following is hitting now, and some will be landing in the weeks to come. Scroll down for the full list.
Marvel Minimates Avengers Infinity War Box Set

A Diamond Select Toys release! This all-new box set features Iron Man in his Mark 50 armor, Thanos with his Infinity Gauntlet, and two comic-shop-exclusive characters – Black Widow and the Winter Soldier! Each Minimates mini-figures measures approximately 2 inches tall with 14 points of articulation, as well as fully interchangeable parts and accessories and a display stand. Packaged in a full color window box. Designed by Barry Bradfield!
Box Set            SRP: $24.99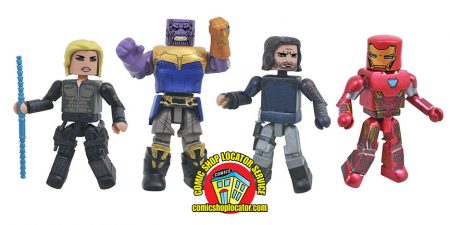 Marvel Minimates Avengers Infinity War Toys"R"Us Series 1 Asst

This is the big one! Three new two-packs capture Iron Man Mark 50 with Thanos, Iron Spider-Man with the Hulk, and the Toys"R"Us exclusive Adolescent Groot with Rocket Raccoon! Each 2-inch mini-figure features up to 14 points of articulation, and has fully interchangeable parts. A Diamond Select Toys release!
2-Packs            SRP: $9.99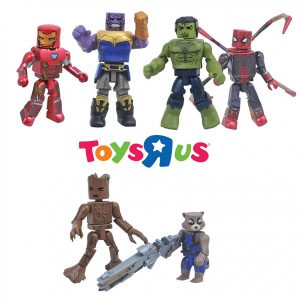 Marvel Minimates Avengers Infinity War Walgreens Series 1 Asst

This is the big one! Three new two-packs capture Iron Man Mark 50 with Thanos, Iron Spider-Man with the Hulk, and the Walgreens exclusive Doctor Strange with Thor and Star-Lord with Proxima Midnight! Each 2-inch mini-figure features up to 14 points of articulation, and has fully interchangeable parts. A Diamond Select Toys release!
2-Packs            SRP: $9.99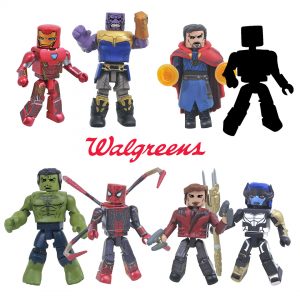 Marvel Gallery Avengers Infinity War PVC Dioramas

A Diamond Select Toys release! These 9-inch scale sculptures of the Avengers from the new movie Avengers: Infinity War feature detailed sculpting and collectible-quality paint applications. Each PVC plastic diorama comes packaged in a full-color window box.
Black Widow PVC Diorama        SRP: $45.00
Doctor Strange PVC Diorama     SRP: $45.00
Captain America PVC Diorama  SRP: $45.00
Thanos PVC Diorama    SRP: $45.00
Thor PVC Diorama        SRP: $45.00
Marvel Premier Collection Avengers Infinity War Resin Statues

A Diamond Select Toys release! These resin statues of the Avengers as they appear in the new movie Avengers: Infinity War are approximately 12-inch scale, and feature high-quality sculpting and paint details. Each statue is limited to a production run of 3,000 pieces, and each is hand-numbered, with an accompanying certificate of authenticity in a full-color, hand-numbered box.
Hulkbuster Statue          SRP: $199.99
Spider-Man Resin Statue SRP: $150.00
Thor & Rocket Resin Statue SRP: $150.00
Marvel Select Avengers Infinity War Action Figures

A Diamond Select Toys release! These 7-inch scale action figures of the Avengers are based on their appearances in the new movie Avengers: Infinity War. Each features approximately 16 points of articulation with interchangeable parts and accessories, and comes packaged in the full-color, display-ready Select packaging, with side-panel artwork for shelf reference. Sculpted by Gentle Giant Studios!
Spider-Man Action Figure          SRP: $24.99
Captain America Action Figure   SRP: $24.99
Thor with Groot Action Figure     SRP: $24.99