AMC's ratings juggernaut returned from hiatus on Sunday night. The nearly hour-and-a-half episode acted as an emotional send off for one of the show's longest running characters.
Given that we knew Carl's (Chandler Riggs) fate at the end of the last episode, not too much actually happened in terms of plot on this episode. The entire development was split between two major groups, so lets get down to it.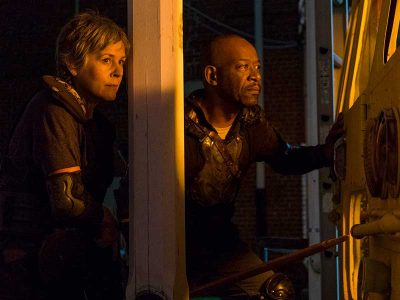 Morgan, Carol and the Kingdom:
If you would be so kind as to remember, the eighth episode of this season ended with the Saviors laying siege to the different communities. At the Kingdom, the Savior's forces succeeded in capturing King Ezekial (Khary Payton). The rest of his people escaped, however.
Morgan (Lennie James) begins the episode by working to escape his original position at the Sanctuary. He meets up with Carol (Melissa McBride), and the two get to work infiltrating and laying waste to the Savior's forces at the Kingdom.
If you know these two characters, it should be obvious that they would not face too much serious resistance.
While the dynamic duo is working their way towards the captive Ezekial, the King is having a chat with the Savior's head liason to the Kingdom. He expresses regret that things went the way they did, and tells Ezekial that Negan (Jeffrey Dean Morgan) will be the one to kill him. This head liason tries to radio to his satelite officers, and realizes something is very wrong.
Yeah. Carol and Morgan killed them all.
He takes Ezekial into the innermost sanctum, apparently believeing that he will be able to protect his life there. It doesn't work out like that for him.
Morgan and Carol infiltrate the sanctum and there is a tense conversation about what comes next. Ezekial and Carol tell Morgan that the liason doesn't need to die, but Morgan argues that, on the contrary, he does.
The choice is taken out of their hands by Henry (Macsen Lintz). Henry's older brother was Benjamin, who was previously shot by the Saviors. Earlier in the show, he attempted to come on the mission with Carol, but she turned him away. Henry stabs the liason in the neck with a staff (as taught my Morgan).
That is pretty much where we leave these guys.
The Long Goodbye: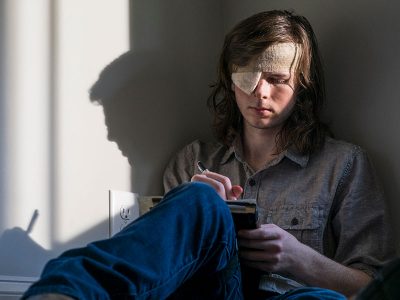 The rest of the show was wholly preoccupied with saying "goodbye" to Carl.
The first glimpse we get is a flashback showing how Carl was bitten, and his immediate reaction to it. This part takes place before Rick (Andrew Lincoln) and Michonne (Danai Gurira) and everyone else finds out. This is a gut wrenching and harrowing, yet somehow upbeat montage of Carl putting his business in order.
during this cheery montage, we see Carl cleaning his wound, spending some time with his little sister, Judith and writing goodbye notes to everyone he loved, in case they didn't return to see him off.
Honestly, I cannot do this episode justice by just saying what happened in a physical sense. There were tears. There was heartbreak. There was even reconcilliation between Rick and the man Carl died to save – Siddiq (Avi Nash). This all came to pass in the sewers beneath Alexandria.
Here, Carl tells Rick of his vision for the future. In this world, we see an idyllic society in the apocolypse, where peace replaces violence. Rick promises to Carl that he will build that vision for him.
The episode ends with Rick and Michonne taking Carl out of the sewers. The rest of the group heads off as well, but where they go is not immediatly clear. Carl gets taken to a cabin. Before he totally slips away, he shoots himself, saving his dad and adoptive mom the grief. Before he goes, he confesses his extreme guilt to Rick about a murder he committed back in season three. Rick consoles him, and it is over.
Before the end of the episode, we get this really weird bizarre shot of Rick, bleeding out, alone, under a tree. I don't know what this means, but it better not mean the end of Rick, or I will be VERY upset.
My takeaways:
Coming into this week's show, I was not expecting too much. I knew we were going to be saying goodbye to Carl, but I didn't realize how hard it was actually going to hit me.
Carl grew up on the screen in the show. As viewers, we grew with him, to an extent. We learned about the apocolypse with him. This episode was absoultely gut wrenching. Seeing Carl go was not easy.
His departure was made a little easier, though. Now that we know that the regular glimpses into the idyllic future (from tonight's episode as well as the first half of the season) were Carl's vision, I think i is safe to say that that is indeed where we are headed.
The second half of this season looks to be a wild ride, so buckle up, and keep the tissues ready. I think you might need them.