Diamond put on an awesome show at Toy Fair this year. The booth featured statues, action figures, and minimates galore. And yes, there were more Real Ghostbusters to show off.
I mentioned The Real Ghostbusters in an article earlier today about Playmobil, but DST had some more traditional offerings on hand than the semi-articulted offerings from the aforementioned company. These are a part of the Ghostbusters Select line of toys, and man are they cool.
They're officially included in several waves in series 2 of the figs, along with Ghostbusters II selections. In that way, they also mirror what Playmobil is doing with its line. As I mentioned though, these look nothing like those toys, and would actually fit right in with the rest of the line.
Each one will include a part to build the front of the Firehouse too. So if you want that, then you're going to want these.
Here's the "animated" line:
And here are the GBII figures:
Statuesque
Another stunner in the DST booth was the array of statues that were on hand. You'll recognize some of these from our coverage of other shows like SDCC, but most of what I saw was brand new.
While there were the higher end models on display, like Cable, Deadpool, and Domino. But there were also a ton of lower cost pieces that dazzled me. I'm talking about the Gallery series of course. It might have started somewhat humbly, with only a few statues, but it's exploding and seriously upping the quality level. And the price, which is around fifty bucks, can't be beat for what you're getting.
Check out some of these stunners in the gallery below.
Sonic the Hedgehog
Sonic made his DST debut this year. A few nice statues were on the shelves, including Tails and Sonic himself. These were probably the biggest hits of the new line for me, which I wasn't expecting. I usually gravitate more towards action figures than statues, but I thought both of these were too freaking cool.
There was also a wave of Minimates though, which I wasn't crazy about. They looked okay enough, but I think I was expecting something a bit different, given the license. They're still pretty neat though. Have a look for yourself below.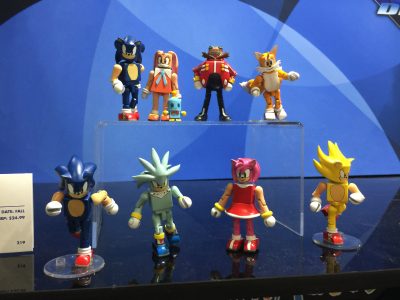 A kingdom of hearts
Diamond Select had a ton and a half of Kingdom hearts stuff on hand. I'm not a fan of the video game RPG series at all, so little of this meant too much to me, but I'm sure hardcore supporters will find something to love.
In all, there were action figures, Minimates, and even a Vinimate on hand.
Pacific Rim 2
I know next to nothing about Pacific Rim 2, or the original for that matter. For some reason it never appealed to me as a film even though I thought some of the designs were really cool. Pac Rim 2 is much the same except I had no idea what the kaiju or Jaegers were set to look like.
Well, now I do thanks to DST's display, and they're just as cool as the first movie's. Specifically, that giant kaiju is awesome, and there's an armored beast as well, that seems to hint at the new film's plot. We'll see.
For now, enjoy the sneak peek.
Minimates, Vinimates, and action figures
While the above were the main points of presentation for DST at Toy Fair 2018, there was plenty more on the shelves. Some new waves of Marvel Minimates were present, including one based on Maximum Carnage, the classic Spider-Man saga. Cool stuff.
There were Vinimates, some Marvel Select figures, and a good deal of Nightmare Before Christmas stuff too. The NBX slate was neat in particular, as each new figure will include a piece of a wrapping table. Cool stuff.
Here's the best of the rest.