Yeah, he's still kind of considered one of Spider-Man's "newer" villains, but Venom is 30 years old this year. And you better believe there's a ton of stuff planned.
Year of the Venom
Issue #150 (under the revised Legacy numbering) ushered in another age of Eddie Brock as Venom. If that was enough to make longtime fans of the most iconic version of the semi-villain happy, then get ready to be overjoyed as Marvel has announced a whole year of Venomous activity.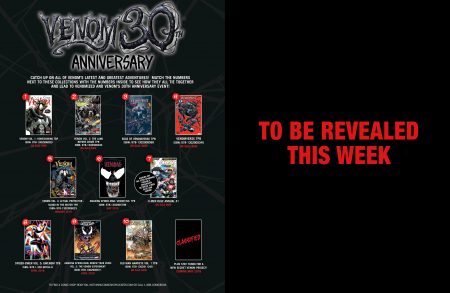 And it all kicks off with one awesome poster from the great Clay Crain:
To help readers sort out where the Venom trail started and where Eddie Brock's story is headed, Marvel is excited to reveal its WEB OF VENOM map: a 20 x 13 laminated poster featuring a dynamic new image by superstar artist Clayton Crain, designed to show how the seeds for the milestone 30th anniversary have been planted across the Marvel Universe for the past year in epic stories such as EDGE OF VENOMVERSE, VENOMVERSE, VENOM INC, the upcoming POISON X and more!
Lots to look forward to for fans of the symbiote. The new poster is called the Web of Vemon and it's more than just a digital goodie. This bad boy is headed to comic shops. And that means you can grab a copy to hang on the old wall. Expect to find it starting in your LCS on January 31st.