Captain America's number one villain makes his One:12 Collective debut thanks to Mezco Toyz. Red Skull might have a few little issues, but he's still one of the best examples of the character to ever hit plastic.
Hail Hydra!
If you're an Avengers fan, then you already know all about Red Skull. Honestly too, he's probably one of your favorite villains to face the Marvel super-team. Skull would stand out in any rogues gallery though, as he's one of the coolest looking, and downright evil baddies in the medium.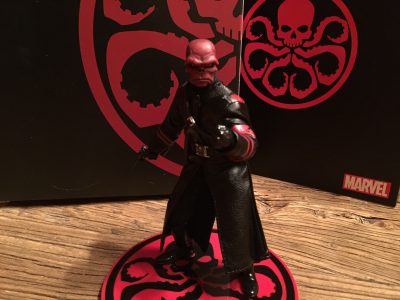 In the movies of course, this is a little different as Skull hasn't been in anything but the first Captain America film. That's more than a little sad considering he's easily a threat that could give the whole Avengers team a run for their money. Nevertheless though, the head of Hydra saw his moment in the sun begin and end with The First Avenger.
This figure from Mezco Toyz, a part of their excellent One:12 Collective line, is more modeled after the former than the latter. I say "more" since the look that Skull sported in The First Avenger was pretty on point with his comic book counterpart.
Well, later versions of his comic book counterpart anyway. Earlier versions of the character had him decked out in a green coverall that I always though made him look like a custodian or janitor of some kind. Fun fact: That version was one of Mezco's NYCC exclusives for this past year. So if you prefer that Skull, you can probably find him on eBay.
As for this one that we're looking at today though? Well he's dressed in a much more eeeeeeevil looking black suit- complete with trench coat.
Altered packaging
As usual we'll start here since it's the first thing that you'll see. One:12 boxes are pretty neat since they are covered with cool logos and action shots, and fold out to reveal the figure (in his plastic "bubble") and another cool image. They did anyway.
Skull here doesn't have that setup. This is a new packaging design for the line, and eschews the opening panel for something a little more common – a slipcase.
It's not bad at all, and honestly doesn't hurt the coolness of the toys at all, but it's a change that I kinda feel sad about. I really dug the fold out panel. And while I won't dock any pants for not having it, it was cool and I hope it's something that Mezco looks at again in the future.
This is a pretty striking box though, overall.
Accessorizing evil
One:12 figures have been -more often than not- on the money with accessories. There are occasions when they're not for sure (Oh hi Man of Steel Superman), but Mezco usually does an awesome job packing in a few select goodies to pose your newest figure with. Skull doesn't have a ton of pack-ins, but he does have some good ones.
Of course, he's got a selection of hands that are posed in various states. He's got grasping ones and fists that should make most poses look great. Then he also has a pair of noggins packed in that are just flat-out great.
The standard head is good, and has a nice stern face plastered across it. But it's the alt-portrait that really does it for me with a slightly goofy grimace that just instantly recalls any one of a hundred Red Skull covers from Avengers and Cap comics past. Nicely done Mezco.
Past that, Skull also comes with a Hydra logo emblazoned stand, a pistol that would fit right in with WWII Germany, and… the Cosmic Cube.
No, not an "Infinity Stone", the Cosmic Cube, as it always appeared in Marvel's comics. There's really nothing all that special about this little blue hunk of plastic, but it's perfect looking and makes the Skull figure if you place him with it outstretched. Classic.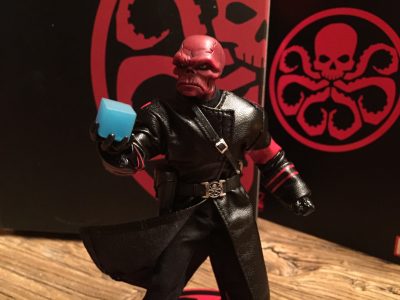 Oh, a note about the pistol too. I have to mention that it can be stored in Skull's holster, right on his belt. That's always a nicety, to be able to display all of the included accessories that a figure comes with.
A now classic Skull look
Speaking of the holster, we should get to one of the coolest parts of this figure – the costume. Much like the box, Red Skull's suit here is all red and black, and man does it stand out.
Unlike the green coverall, this visage is super menacing, and just screams "bad guy". Black boots and gloves give way to a black jumpsuit, which is probably the same form factor as the green one. It just looks so much better in black.
You can, if you want, display Skull in just that. But why would you when he's got that awesome trench coat?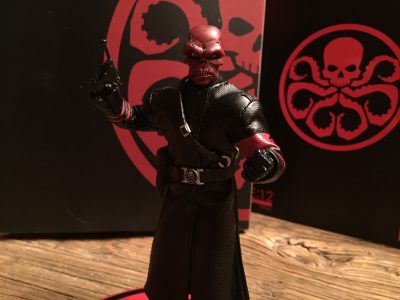 The coat is faux leather, and has a Hydra armband with some great detailing. It fits well too, but not perfectly. The shoulders are a little off, and make Skull look like he's wearing some giant shoulder pads. The result is not awful by any means, but I have to believe it could have been better.
What could still not be better, even after a few years in production, is the One:12 articulation. Once again, the series produces an awesome 1/12th scale figure that can be posed just about any way you like. And maybe more importantly, look great posed in any way you like.
Even with some minor dings, it's kind of tough to knock this bad boy when he's set up in all his glory. He's a stunner of a figure, and pairs perfectly with any of Mezco's equally awesome Captain America figures.
Red Skull
Release Date: December 2017
Produced by: Mezco Toyz
Line: One:12 Collective
Hail Hydra!
Top notch sculpt and articulation - 95%
The clothing is a little oddly cut in places - 88%
Cool, but not many accessories - 80%
Mezzo's One:12 Collective gets another winner of a figure with Red Skull. The Marvel villain is in fine form here, with an awesome outfit and excellent sculpt. There aren't all that many accessories and the coat fits a little weird, but those are minor nitpicks - this is one villain that you'll want to add to your One:12 collection asap.