The comic book Superman finally appears in Mezco's One:12 Collective line. And he was pretty much worth the wait.
Man of Tomorrow
This one's been long time coming. Maybe that's not fair to say though, since pretty much every figure in the One:12 Collective takes a while to get to retail. As it is though, they're all pretty much worth the wait, to one degree or another.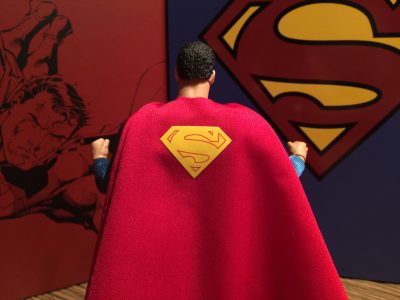 Superman has had a pair of One:12's land this year, with the first being of the Batman v Superman (movie) variety. I reviewed that figure here, and found it to be pretty neat, with one major caveat. That being the lack of accessories.
While this new Superman figure lacks the movie costume and the likeness of actor Henry Cavill, it more than makes good for the previous figure's lack of extras.
So let's start there.
The accessories
I consider accessories to be pretty important. Though, honestly, it kind of depends on the chart acre that the figure is representative of, and the line that it's a part of.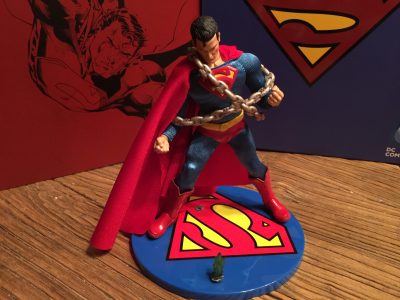 With the One:12 Collective, we're talking about an action figure line that is kind of known for its detail. Obviously, that includes actual detailing, and articulation. Both very important things. But to me, that also includes accessories.
Most figures in this line include loads of cool extras and optional display parts. In fact, I usually find the inclusions to be over the top, not that I'm complaining. The Man of Steel though, as seen in the BvS film, was the exact opposite of that. He included extra heads and hands sure, but only came with a manhole cover to pose him with.
This Superman though, doesn't have that issue.
Supes comes with a terrific array of cool stuff, most of which should be instantly recognizable to any DC Comics fan. Yes, you'll find extra heads and hands, but also:
"Breakable" chains
A kryptonite crystal
The Bottle City of Kandor
Magnetic "bullet ricochets" that attach to the Superman symbol
That's more like it. Yeah, some other stuff like snap-on heat vision and such would have been awesome, but overall I can't complain about the cool stuff packed into this box. Likewise, I can't get too negative about the figure itself.
Great articulation and sculpting
If you know the One:12, then you know what to expect here. And that's not a bad thing by the way.
Superman here has a load of poseability, and clocks in at the 6″ scale (hence One:12). He seems to have the standard One:12 body though, so he's not exactly massive. While I usually have issues with more doll-like Superman figures being too skinny (I'm looking at you Sideshow), this one doesn't really suffer from that.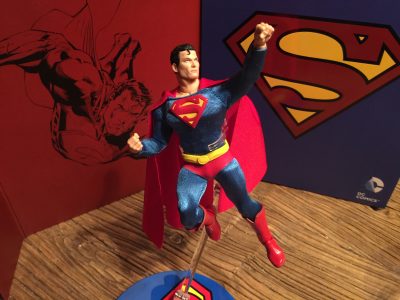 He's not Hulk, but he's definitely not thin either, and comes across really well. The Superman costume looks great too.
This isn't based on any of the new DC Universe suits, but instead is a clear adaptation of Superman at his most iconic. And that includes the red trunks.
Actually, about those trunks, they're a part of the jumpsuit and not a separate piece. They might look it, but the trunks are made of a plastic-y overlay that is printed right onto the costume. As a result, it not only looks good, but it won't move around either.
Superman's outfit falls prey to the saggy crotch-itis that some One:12's seem to have- but only a little. As you can see from the images, he looks really good overall, and getting him into some suitably heroic poses is almost too easy.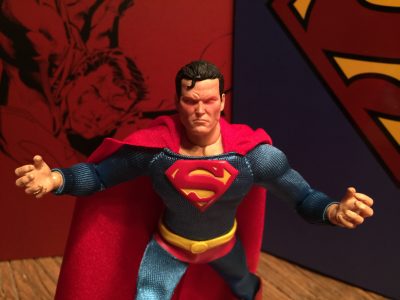 Speaking of posing, you'll be happy to know that Superman comes with the standard One:12 base with the optional "flight" arm. He's also got the oft-included cape clips in the box. So you can clip his cape to 'em and pose it in any shape you like to simulate flight.
I wasn't blown away though, by the portraits included here. Supes comes with a standard "neutral" face, and an angry heat-vision-eyed face. Now, that's not bad really, but I would have liked him to have included a smiling face a'la Shazam.
Not that I'd have wanted a big toothy grin, but a happier face would have been nice. And I feel it fits the character in the same way that the full on smile fits the aforementioned Marvel. I also would have preferred an angry face without the heat-vision effects.
I mentioned a snap-on heat vision accessory, and I would have preferred that instead of another heat-vision face. If you don't recall, pretty much that same head was included with the movie Superman figure. Outside of the Cavill likeness, it's the same.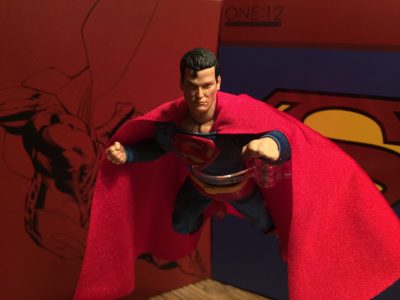 Solid, and worth the wait
Is this the best Superman figure of all time? Honestly, I don't know. There have been so many over the years, some of which have been stellar.
Thing is though, in terms of clothed-figures this one's tough to beat. The scale is a part of that, since it's novel to see something made so well at the 1/12th size. But the appeal here is not just novelty.
Superman is fantastically detailed, with excellent accessories. And let's face it, the costume choice should make any longtime DC fan smile. Overall this one's a winner.
Superman
Release Date: October 2017
Produced by: Mezco Toyz
Line: One:12 Collective
Man of Steel
Accessories - 90%
Sculpt and articulation - 96%
Costume - 91%
All the hallmarks of the One:12 Collective are in full effect in this Superman figure. Top notch poseability, great accessories, and the most iconic Superman costume all equal a figure that fans should take a serious look at adding to their collections.