It's going to be a good year for God of War fans in 2018, with a new game. But there's also an art book and comic book mini-series  on the way.
Art of war
Starting in the PS2 era, God of War has been a fan favorite. The over-the-top, gory series has seen Kratos, its "hero", rampage through Olympus laying waste to the Greek pantheon. But now that the gods are dead, what comes next?
Presumably, rampaging through a whole new pantheon of course! That'd be the Norse realms by the way. The PS4's God of War series apparently casts Kratos against Odin and crew. Possibly.
There hasn't been much said about the storyline in general really. So we really don't know who Kratos will be fighting against or with. Well, almost. One thing we do know is that he'll have a sidekick- his son.
Mystery aside though, one thing fans can probably bet on is God of War looking great.
And from the looks of things, Dark Horse is betting on that very same thing as they prep one of their famed art books for the game.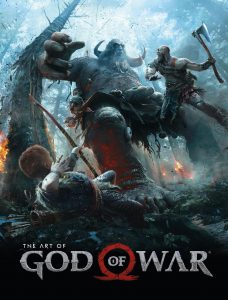 Dark Horse has a great history of these, transferring the concept and executed designs from many a video game to the printed page. As a fan myself, I'm happy to say that they're consistently good to great. There's no reason to think this one will be any different.
The Art of God of War is an intimate chronicle of the years-long odyssey to bring Kratos and Atreus' beautiful and brutal world to life. Step into Midgard and explore beyond, as Dark Horse Books and Santa Monica Studios are pleased to offer the quintessential companion to the enormously anticipated God of War. This is a tome unlike any other, including an expanse of gorgeous art and in-depth interviews that set readers on an exhaustive behind-the-scenes journey to witness the creation of an epic of tremendous scale.

The Art of God of War Limited Edition is a gorgeous artifact that appears to have come straight from Kratos and Atreus' adventures! The beautiful tome has a realistic leather-like cover with bright silver foil and red gilded pages. Enclosed in a clamshell case with a cloth-textured lining, The Art of God of War Limited Edition also includes a cloth-covered collector's portfolio with two gallery-quality lithographs, and will be available for purchase through the PlayStation Gear store.
Aside from the art book, GoW fans can also get ready for a four-issue mini-series. Chris Roberson will pen these adventures, which will take place in the time of the new God of War. So there will be more Frost Giants, and less Gorgons for Kratos and son to battle. Roberson will be paired with artist Tony Parker for the comic, who you might know from the This Damned Band book.
There's a generic "2018" date for the comic, but the art book is a bit more solid. Dark Horse has announced that fans can expect that in the early goings of next year.