Marvel's Black Panther film is set to hit theaters in 2018, but the collectibles are here right now. They've got Marvel Legends, Pop!s, Dorbz, and plenty more.
Panther Power
One of the best things about Captain America: Civil War was, for me anyway, Black Panther. Not that I didn't like the rest of the film, I thought it was great, but actor Chadwick Boseman's Panther had a really great arc in there that I thought was just right. And -of course- it also set up the character's first ever solo movie, set for release on February 16th of next year.
You think there's a deluge of collectible stuff planned? Oh yes. And actually, it's hitting retail right now. Our pals at Entertainment Earth have announced that they have a ton of Panther goodies in stock, from multiple companies.
Personally, I'm mostly interested in the Marvel Legends figures. Hasbro has a nice set of characters prepped for this wave, including multiple movie-based figures. The toy-maker always manages to slide a few comic book inspired characters into movie waves though, and this one's no different. I definitely want that great looking Black Bolt on my shelf.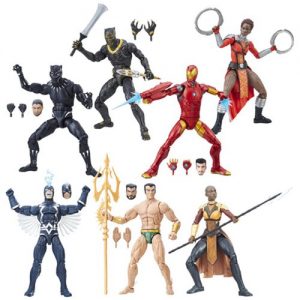 Aside from those though, you'll find some neat Pin Mates in stock, and plenty of Funko. The latter company has Pint Sized Heroes, Dorbz, and Pop!s aplenty hitting right now, and all starring the Panther and "friends".
So there's more than enough to keep fans of the latest Marvel movie star very happy indeed. Check everything out right here.