Star-Lord chose to destroy the Infinity Forge, and is beginning to learn what that means. Meanwhile, the Guardians themselves are in for a bumpy ride. Let's see what happens in Guardians of the Galaxy Ep 4 Who Needs You.
You can find our coverage of Ep 1 here, Ep 2 here and Ep 3 here.
The Great Hala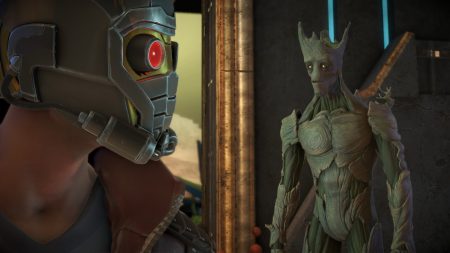 Star-Lord decided that the best way to deal with the Infinity Forge was to destroy it. What nobody could predict however, is that Hala would become infused with the power of the Forge. It was not easy, but the Guardians were able to escape before she could end the team. Even though that meant the members each falling into a vast chasm and becoming lost deep inside a strange planet. Nothing ever goes wrong in or on strange planets, right?
Worms
As soon as Quill and the team determine that everyone survived the fall, an unusual rock-devouring stone worm emerges from a hole in the wall. Quill befriends the creature after Mantis senses its feelings. Given the name Bowie after Earth's own space traveller, the team gains an ally in the local.
We see some additional footage of Peter with his mother, showing how they choose to cope with her declining health. We are also shown a fresh memory, this time between Drax and his daughter Kameria. Kameria is preparing to take her initiation into their warrior way of life. This shows us a deeper, more caring side of Drax that is usually glossed over.
Emotions
Emotions are at a boiling point at times throughout this episode. Everyone knows that even the best of friends have disagreements at times. Sometimes they are cleared up at the time of the arguement, while other times there may be a disagreement that causes a rift in their friendship. The latter is what we are approaching with the Guardians. Since Chapter 1, Rocket has been threatening to leave the team, although as the story unfolds, he may be the last man standing.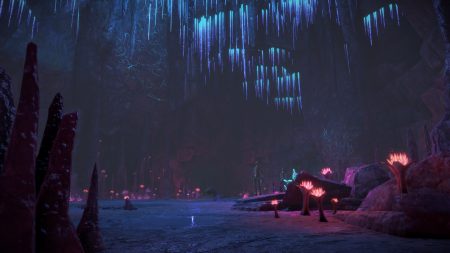 The choices you will be met with are sometimes light and trivial, while others are game-changing. I certainly encountered a changer or two this time around. By the end of the chapter, the Milano only had 3 bodies aboard. Now, for the specifics of who and how, you'll have to grab a copy and see how the story unfolds for you. Suffice it to say, that I was shocked at the way everything unfolded, and I'm a bit nervous as to how things will come together in episode 5.
Thoughts
Who Needs You certainly saw some of the best action so far. While it was not necessarily more action packed than others, it brought a smile to my face as I was trying to keep the correct triggers activated. There is a moment where the entire team is surrounded, standing back to back. With the camera in a slow rotation, we jump between every character fluidly, and who doesn't love sharing the limelight.
The story element of these Guardians TellTale games has been quite intriguing. Starting with Thanos in episode 1, I'm not sure anyone was prepared for how the story was going to progress. Progress it has, and we're at a bit of a nailbiting cliffhanger. I must commend the writers for this one in particular: I am not typically left on the edge of my seat this much by their other series.
One particular highlight that I believe most players will get a kick out of, is when Groot finds himself in a patch of toxic spores. No one thought he would be affected like he was, nor would they expect the adornment it produced.
Pick up TellTale Games' Guardians Of The Galaxy Episode 4: Who Needs You today, to learn more about how this galaxy is unfolding.
Horrible Haggling
Plot - 85%
Writing - 89%
Art - 82%
The latest in the Guardians' episodes is a doozie. People leaving, people dying, you never know what's in store. What I do know, is that I'm a bit nervous for what is to be the finale.