It's new Mario week on the Nintendo Download! That's right, the first real Super Mario adventure is finally here for Switch.
It's-a me
He's back folks, and if the pre-release reviews are anything to go by, he's in rare form. Super Mario Odyssey is apparently one of the best games of the year, and maybe one of the best Mario adventures of all time. Man, that Switch train just keeps on rolling. Or maybe I should say, a-rolling…
There isn't much else this week worth talking about. But really, if you're a Nintendo fan, then Odyssey is the game you should be looking at. Forget anything else.
Nintendo eShop on Nintendo Switch
Super Mario Odyssey – Join Mario on a massive, globe-trotting 3D adventure, and use his incredible new abilities to collect Power Moons and rescue Princess Peach from Bowser's wedding plans. This sandbox-style 3D Mario adventure – the first since 2002's Nintendo GameCube classic Super Mario Sunshine – is packed with secrets and surprises. With Mario's new moves like cap throw, cap jump and capture, you'll have fun and exciting game-play experiences unlike anything you've enjoyed in a Mario game before. Get ready to be whisked away to strange and amazing places far from the Mushroom Kingdom! Super Mario Odyssey will be available on

Oct. 27

.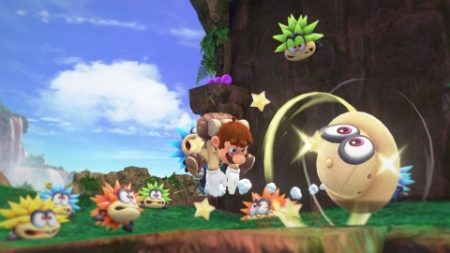 Nintendo Mobile

Animal Crossing: Pocket Camp – In the first Animal Crossing game for mobile devices, interact with animal friends, craft furniture items and gather resources while managing a campsite. Animal Crossing: Pocket Camplaunches on iOS- and Android-compatible mobile devices in late November. To register to be notified as soon as the game is available, visit https://events.ac-pocketcamp.com/en-US/notify_me.
Nintendo eShop sales:
Nintendo eShop on Wii U and Nintendo 3DS
Activities:
Start your adventure off right with the official Super Mario Odyssey Starter Guide from Prima Games. Get the game, then redeem your My Nintendo points to get the guide! For more info, visit https://my.nintendo.com.
The Fire Emblem Warriors game is here. My Nintendo members can earn 100 Platinum Points by finding the hidden Gleamstones on the game's website. Plus, members can redeem points for new Fire Emblem Warriors wallpapers and rewards for Nintendo smart-device games at https://my.nintendo.com.
Also new this week: