Toys to Life has really been taking a beating as a genre, and the latest casualty might be here. According to Eurogamer, LEGO Dimensions might be history.
Vanishing dimension
First launching in 2015, Warner Bros' LEGO Dimensions offered gamers a new way to play Toys to Life. Instead of set figures, like Skylanders and Disney, Dimensions gave players the ability to build their own toys with LEGO, and then import them into the game. True, you couldn't import custom stuff, but the breath of properties tied into the game was staggering. Heck, I just came back from Best Buy, and saw a Beetlejuice set. There's a ton of these things, and it's honestly kind of fun to just collect the sets, let alone play the game.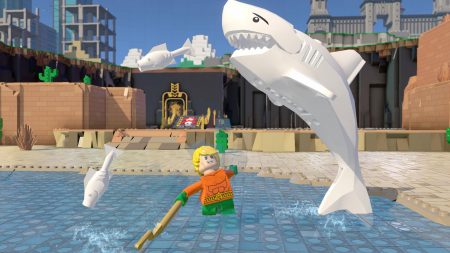 Actually, it's been a while since we've heard much about the actual game. I wasn't aware of this, but the game was apparently set to run for a total of three years. If we go by that timeline, then this would be a little early to can it, but it looks like it nevertheless has ended its run. From the sound of this Eurogamer report, it seems that there's a reason for that.
The website is reporting that LEGO Dimensions was simply too expensive to make.
It's easy to see why that might be, since the LEGO sets that supported and expanded the title ran a gamut from simple mini-figure packs to more elaborate vehicle packs. They weren't cheap to buy at retail, so I don't think it's a stretch to think that they weren't too cheap to make.
According to industry publication MCV, Warners had already made a shift with it. In that 2016, less sets were produced, but more new licenses were introduced. And this year? It looks like work on the title was pushed back time and again. That was to make room for stuff like LEGO Ninjago and the upcoming Marvel Superheroes sequel. It's telling too, since if Dimensions was profitable, it seemingly would have taken precedence.
All of this culminates in a Dimensions title that doesn't have anything new on the docket for the Holidays. According to MCV though, you shouldn't look for an announcement from Warner Bros. The game is still a part of their Holiday 2017 plans. And so any deep six-ing of it certainly won't hit till after the buying season.
We'll see I guess. Bottom line though, don't expect to see much in the way of new stuff coming out of Dimensions any time soon. That and -I suppose- Toys to Life is pretty much dead as a genre. If Dimensions is gone, then it joins Disney Infinity and Skylanders (which is on "hiatus") in the video game phantom zone. And that pretty much signals the end of the relatively short-lived genre.
Source: MCV