Nintendo isn't the only name in retro you know. Atari and Sega both have "flashback" systems on the way, from the retro-kings at AtGames.
Flashing back
We first reported on this a while ago, and now pre-orders are open for AtGames' latest systems. You might recognize that name, and if you do it's because AtGames has been quietly producing retro consoles for a good long time.
Their Atari consoles release just about every year, loaded up with new games from its classic library. AtGames has even released Intellivision and Colecovision-branded systems, and has had Genesis' hit retail before. Though honestly, the Sega consoles that they've launched in the past have looked nothing like this one.
The upcoming Genesis is actually moulded like a Sega Genesis (gen 1) unit. So it looks like a Genesis in much the same way that the NES Classic looked like a lil' NES. Cool stuff. The Genesis also sports a cart slot however, so you can dig up your own cartridges if you like.
It does include 85 games though, out of the box, so I'd imagine there are more than a few on there already to keep you occupied. And these aren't just Genesis games. AtGames tells us that the Genesis Flashback will sport some Sega Master System and Game Gear titles in that mix as well.
As for the Atari 2600, that's got a nice selection too, though doesn't have that cartridge slot that the Genesis has. Still, with 130 Atari classics built-in, chances are you really won't need it.
Look for both the Atari 2600 Flashback 8 Gold and the Sega Genesis Flashback to start hitting retail on September 22nd. Pre-order 'em below.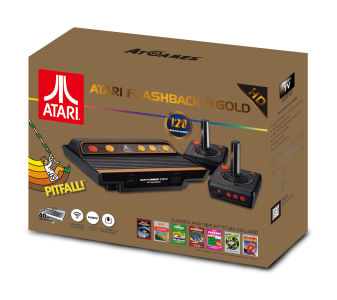 Best Buy:
Target:
GameStop: