A classic team-up is in store for Ninja Turtles fans as season 5 of nickelodeon's series hits the air. If we're talking samurai, we're talking Usagi Yojimbo.
Lone rat and cubs
As a fan of the TMNT from their Mirage Comics days, this makes me smile. Usagi Yojimbo, Stan Sakai's rabbit ronin, will indeed be crossing over with the Turtles once again – for the first time.
The properties have met a few times in the past, as long time Turtles fans know. Though they've never seen each other on the current nicktoons TMNT series. Season 5 corrects that little oversight, with a three episode arc.
Renamed Tales of the Teenage Mutant Ninja Turtles, season 5 of the show is shaping up to be a little different than the previous four. At a panel this past Friday, the cast of TMNT met up to discuss what's in store.
Turtles fans turned out for Nickelodeon's Tales of the Teenage Mutant Ninja Turtles at San Diego Comic-Con 2017 on Friday, July 21, where Andre Meadows (Black Nerd Comedy) moderated a panel featuring executive producer Ciro Nieli, legendary creators and collaborators Kevin Eastman and Stan Sakai (Usagi Yojimbo), Yuki Matsuzaki (voice of Miyamoto Usagi), along with series voice cast members: Rob Paulsen (Donatello), Greg Cipes (Michelangelo) and Eric Bauza (Tiger Claw).

The panel's sneak peeks included: the world premiere of a full-length episode, "Lone Rat and Cubs," written and presented by TMNT co-creator, Kevin Eastman; a clip from new episode, "Yojimbo," from the upcoming Samurai story arc; and concept art by Ciro Nieli showcasing new characters and designs of Usagi and the villains the Turtles will face this season.

The three-part Samurai arc begins Sunday, July 23, at 9:00 a.m. (ET/PT) on Nickelodeon. Fans can visit the Nick App, Nick.com, Facebook,Twitter and Instagram to learn more about Tales of theTeenage Mutant Ninja Turtles. Episodes of TMNT are available Nick.com and the Nick App, along with platforms including iTunes, Amazon Video, Google Play, Vudu and Nick On Demand.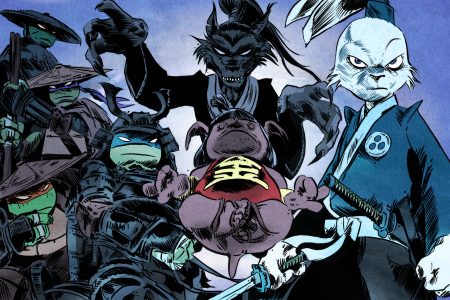 Turtles in Time
So with a meeting of ancient samurai, I'd suspect that the Turtles will be doing a bit of time-traveling in S5. But then again, this isn't ancient Earth we're talking about since those samurai are all animals. So might they be tumbling through dimensions?
We'll see, but one thing's certain – this is the last season of this version of the Turtles. Announced earlier this year at Toy Fair, the Teens will be starting something all together new come 2018. Apparently, it'll be a back-to-basics type of show, and present the Turtles origin, fresh from the start.
I have to admit, I'm sad to see that. I haven't caught nearly as many episodes of the current series as I'd have liked, but what I did see I loved. So personally, I'd like nothing more than to see it continue. Or, at the very least, get a Blu Ray set or two so I could catch up.