The first details for the portable and home console version of FIFA have been announced via a press release from EA.
The FIFA iteration, titled FIFA 18 looks to be a fully featured soccer, or football, sim. The game will include modes that have become longtime staples such as Ultimate Team, Career mode, Kick Off, local seasons and more.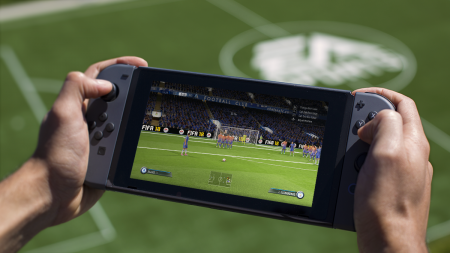 It is worth mentioning, however, that the apparently well received story mode from traditional home consoles isn't present. I guess Switch owners will never know what happens to Alex Hunter on the second season of "The Journey." And while this isn't necessarily the place to get into this, I don't think sports games need to have story modes. I am sure the cinematic experience is fun for some people, but there are many others, myself included, who just want to control the game and have it play out the way I want it to.
So, yeah. I won't be missing "The Journey" while I am playing Fifa while out and about.
"FIFA 18 on Nintendo Switch is the best FIFA you can take with you anywhere, play anytime and with anyone," said producer Andrei Lăzărescu in a press release. "We're delivering the immersive and authentic experience that fans expect from FIFA, while leveraging innovative ways to play both at home and on the go with Nintendo Switch," he continued.
The press release goes on to detail how the game will be playable in handheld, docked and tabletop modes. It can also be controlled with a single joy con, both joy cons, or a pro controller. It is pretty nice to see such varied options and strong support coming from EA.
The true test in EA's support is going to happen when and if we see similarly featured Maddens, NHLs, and NBA games coming to the console. While I am not holding out hope, especially for NHL, I can dream.
FIFA 18 will be released on September 29 for the Nintendo Switch.