Join Marvel Unlimited Today to get Access to over 20,000 Digital Marvel Comics
Including a Treasure-trove of Iron Fist Comics!
Marvels Online Comics Service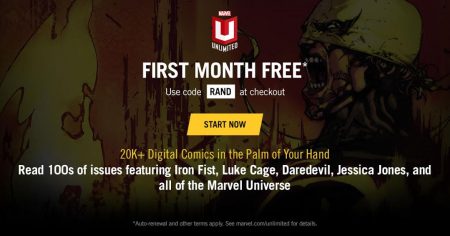 Marvel Unlimited, Marvel's digital comics subscription service, is pleased to offer a FREE MONTH of unlimited reading for new monthly members! Through 3/29/17 11:59 PM ET, new subscribers can try a free first month of Marvel Unlimited, gaining access to over 20,000 issues of classic and newer titles, delivered digitally through your desktop web browser and the Marvel Unlimited mobile app!
With a library of comics spanning 75+ years of Marvel history, Unlimited continues to grow weekly, with newer titles added as early as six months after they're in stores!
Join as a monthly member and apply promo code RAND to unlock your free first month!