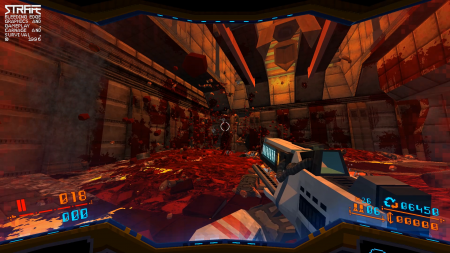 Strafe, the upcoming first person shooter from Pixel Titans and Devolver Digital, is set to land on Playstation 4 and PC on May 9.
The announcement came with a cinematic trailer to announce the date. You can take a look at the trailer below!
The press release describes Strafe as:
"STRAFE® is the fastest, bloodiest, deadliest, most adjective-abusing, action-packed first-person shooter of 1996. Featuring breathtaking photorealistic graphics and persistent gore that allows you to paint levels red with the excessive entrails of your enemies."
Going by the trailer, it sure does look like the game was ripped straight out of 1996. This is obviously intentional, though.
According to Strafe1996.com, gameplay should feel similar to Doom, in that you shoot hordes and hordes of enemies in the face. That sounds good enough for me!
I couldn't find the price on the website, but man, even the website is a trip back to the 90's.