Attention all glorious PC gamers, PC Gaming Race have officially released the Glorious Modular RGB Mechanical Keyboard – the last keyboard you will ever need to buy.
The GMMK is specially designed to facilitate every facet of keyboard customization possible. Replacing switches, customizing the LED backlight color schemes and trying new combinations with Gateron, Cherry and Kalih-branded switches has never been so simple.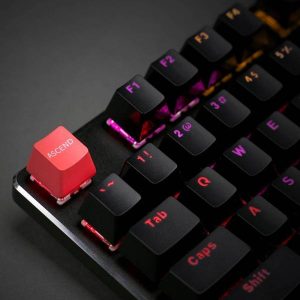 The GMMK Modular RGB Keyboard is armed to the teeth with everything a keyboard needs, including full NRKO, several modes of LED back lighting, double shot injection keycaps and modular switches. Appearance-wise, it's topped off with a sandblasted aluminium finish and a non-branded minimalistic design for a fashionably sleek look.
Customizable
The GMMK is compatible with Gateron, Cherry and Kalih-branded switches, so there's literally thousands of possible key & switch combinations to try out.
The keyboard comes in one of two models:
– A pre-built product for those who just want a modular keyboard without having to customize switches & keycaps right off the bat. The pre-built version comes with Gateron brown switches and black keycaps.
– A build your own kit, where you can select the body size, switch, and keycaps of your choice. Switches and keycaps are now completely optional if you want to buy from somewhere else, or use an existing set.
The GMMK is designed to maximize functionality and offers a near-limitless array of customization options available for only $59.99 at 0rgb. This keyboard is a godsend for PC gamers wanting to tailor their keyboard's aesthetic, feel and usability towards their preference.