Get ready to mix some sick beats and drop the mic with Harmonix' newest musical venture, Dropmix.
While my DJ revolves it
If you're a gamer, then you know the name Harmonix. The developer has been working on music and rhythm games for as long as the genre has existed after all. They've got the legendary Rock Band under their collective belt, and have even gotten into the groove with Dance Central. And now, they've got something new, and it's in collaboration with toy giant Hasbro.
The game is called Dropmix, and it mixes more than tunes. A board game, that's connected to an app, Dropmix challenges gamers to mix songs using… cards. How? Via "cutting-edge technology that empowers players to create unique mixes of songs by playing cards on a game board connected to a mobile app" of course.
Hasbro's Samantha Lomow and Harmonix' Steve Janiak explain
"We continue to focus on creating cutting edge play experiences and DROPMIX delivers on this in a mind-blowing way. We teamed up with Harmonix to leverage their mastery in music gaming and combine it with our expertise in physical and digital play experiences," said Samantha Lomow, senior vice president of Hasbro Brands. "DROPMIX gives players a fresh way to combine their favorite artists and songs, find new ones, and create their best 'drop the mic' moments."

"Our collaboration with Hasbro has enabled us to create the next evolution of musical play," said Steve Janiak, CEO of Harmonix. "DROPMIX offers an entirely new way to discover, experience and interact with music that's social, fun and competitive. When players place their first cards on the DROPMIX board this September, when they hear their first mind-blowing mix, they're going to be completely amazed."

The nuts and bolts of Dropmix' tunage
A board game at heart, Dropmix is made up of three parts, meaning the board, the cards, and the app. But even though this is a tabletop title, we're not just cardboard and paper on the physical end.
Dropmix' board is electronic, and reads the cards via NFC chips that are embedded in each. It can read up to five cards at once, all of which will be combined "seamlessly" to create a new track. Each card has a specific part to add too, be it "bass, beat, loop or vocals".
They're all licensed tunes that you'll be mixing too, nothing is generic. Here's a section of what's been announced so far:
"Take Over Control" by Afrojack (ft. Eva Simons)
"24K Magic" by Bruno Mars
"Closer" by The Chainsmokers" (ft. Halsey)
"Sing" by Ed Sheeran
"Centuries" by Fall Out Boy
"I Want You Back" by The Jackson 5
"All About That Bass" by Meghan Trainor
"House Party" by Sam Hunt
Tunes galore
If you like variation, you should love what's in store, as some 300 cards are intended to drop before the end of the year. The ongoing catalog is going to be as varied as the list above too. Dropmix will feature stuff from genres like Pop, R&B, Dance, Indie, Country, Rock and Hip-Hop – and the reach of the game will be global. So you might not be just looking at the US music scene here either.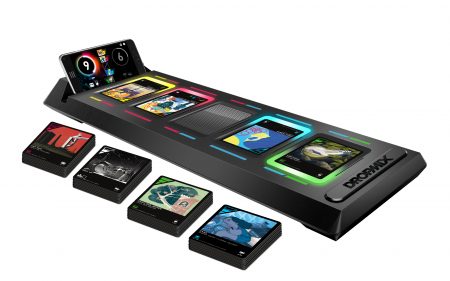 In all, Dropmix will include the play-board and a pack of 60 cards, with a price tag of $99.99 USD. Want to add more tunes? "Playlist" packs of additional cards will be out there too, priced at $14.99 each, and you'll even be able to pick up five card deep "Discovery" packs which'll cost you just $4.99. On the other side of things, the App will be free of charge. Though I'm guessing you figured that already.
Look for Dropmix to hit stores everywhere just in time to be the big thing this coming Holiday Season. It'll be out and about this September.