A new trailer from Cyanide Studios gets behind the scenes with a good look at Styx: Shards of Darkness. The 'Making of a Goblin,' is about the star of the game, Styx. This foul-mouthed goblin is set to return in the sequel to Styx: Master of Shadows.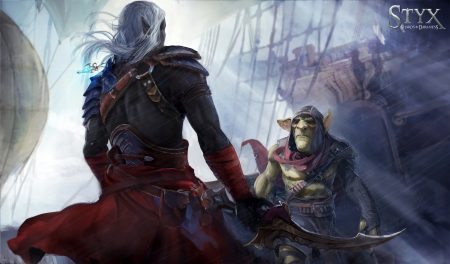 Introducing Styx – The Not So Love-able Green Goblin
Introducing the star of the game, Styx. He is a puny little goblin who is battling an addiction to a magical substance called, amber. In Styx's first adventure, he had to break out of prison and his story revealed he is not the nicest of guys. Styx is not a typical anti-hero either and is purely motivated by his own agenda. He loves to steal more than anything and has no problem with eliminating any creature that gets in his way. Fresh out of prison and a new mystery has Styx emerging from the shadows to infiltrate the city of Körangar, the city of Dark Elves. This sequel bigger, better and badder than the original.
What's A Goblin To Do
Anyone unfamiliar with the first game should know this is a stealth game. Though anyone can pick up Shards of Darkness and not feel left out. Players will use a plethora of powers to make it through the dangerous streets and buildings of Körangar. Styx can create clones of himself and cause distractions. He can also use his trusty knife to create a zip line. These are just two of the many new skills at Styx's disposal. Each level is designed with the intention to create these giant vertical structures for Styx to use so players can effectively move through the levels. There are many choices available on how to approach the obstacles of each level. Styx: Shards of Darkness is available for PC, PlayStation 4 and Xbox One and will release on March 14. Make sure to check out the video below for more information on Styx.