Jumping from one Bungie property to the next, McFarlane Toys will be teaming with the developers to produce a Destiny toy line.
These action figures are your Destiny
If you don't recall, McFarlane Toys has previously made figures based on Microsoft's illustrious Halo franchise. That space epic was originally from the talented minds at Bungie, before being handed off to 343 Industries. The toys were pretty awesome too, which is a bummer since Mattel holds that license now.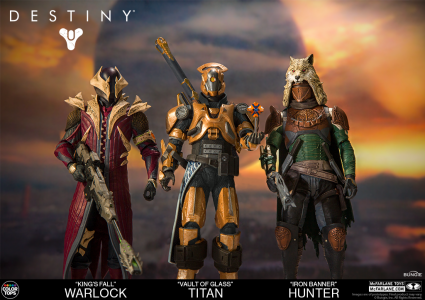 Not a bummer though, is that the company is set to run with Bungie's newer property, Destiny. The first-person shooter is coming up on a big year, with a rumored sequel in the works, and now the toy line.
"Detail, depth, and customization, that's what Destiny gives its players, and that's what made it the biggest new video game franchise launch," said Todd McFarlane, Owner and CEO of McFarlane Toys. "With our upcoming Destiny line, fans can expect that same amount of detail and customization that we have built our own reputation on."
The first wave of Destiny figures will include the game's three Guardian classes: Titan, Hunter, and Warlock. Each one will be fully articulated, and come with a Destiny-branded base. So they should look pretty slick on the shelf, or the desktop, or wherever.
Expect the three initial figures to be in stores starting this July. Each one will cost you $19.99 USD.