The new gameplay trailer for Sniper Elite 4 is here and it provides some really great commentary. Just two weeks before launch, Rebellion has decided to release trailer and give its audience a 101 course in World War 2.
In Deep Behind Enemy Territory
In Sniper Elite 4, players are part of an elite force that is working to take out the Axis powers in Italy. After the Allied Forces pushed back the Axis powers from northern Africa, there was a push to continue to move north up into the Mediterranean Sea. Players will explore Italy in 1943 and can play the campaign solo or with a friend. This elite sniper must work in the cover of shadows and stop the construction of a top secret weapon. This iteration of Sniper Elite is the biggest to date.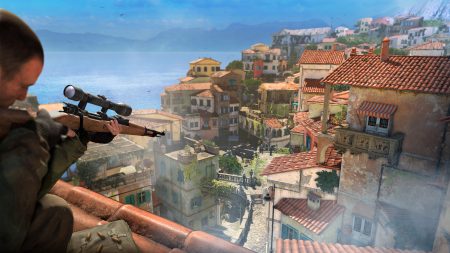 Players will experience an expansive and beautiful Italian backdrop. While the war is in full force, the Allies have not yet marched on Italy. Thus the buildings and structures are still standing. These charming villas make for some great sniper's nest, because after all, isn't this game really about sniping long distances and blowing up heads.
Sniping Is Back And Better Than Ever
Sniping is back and it is better than ever. The gameplay mechanic which Rebellion and this series famous is going to continue to make your head explode. Enjoy the impressive graphics as a bullet travels hundreds of feet to meet its target. The target is exposed in the infamous X-ray vision and we get to see the bullet pass through skin and bone while the head explodes from the force. Anyone familiar with the Sniper Elite series will not be disappointed. Sniper Elite 4 will release on February 14, 2017 for the PlayStation 4, Xbox One and PC.