Conspiracy, action, and an open world set in 1980's Japan. Welcome to Yakuza 0.
Yakuza 0 is an open-world game set in rad 1980's Japan at the boom of its economic reconstruction. The Japan in Yakuza 0 is one that lives in excess. It's packed with yuppies who have so much money that they don't know how to spend them all. Well, that is until organized crime gets to them with a conspiracy that spans two Japanese cities! Sound interesting? Well, read my review and find out if it's worth it! (Spoiler: IT IS.)
Gameplay
If you've played Yakuza in the past, then rest assured that everything that you love the game is back. The twist however, is that some things are different- but in a good way! A lot of the quirky things that people have come to love about Yakuza return here. And I mean stuff like the various mini-games and relationship building with people.
And actually, before we talk about the main game, I'd like to talk about those mini-games. See, I've spent about 80 hours on Yakuza 0. And at least 10 hours in there were spent on rushing to finish the story.
I've been playing the mini-games since then. Yep. Yakuza does such a good job in immersing you in the 80s that you actually start to believe that you're in the game. That goes a long way towards experiencing Kiryu and Goro's journey for yourself.
That's probably a good reason why I enjoy the mini-games a lot.
Some of the mini-games include a batting center, disco and bowling! There's a lot more though. Not the least of which is a Sega arcade that allows you to play some of Sega's classic arcade games. My favorite however, are the disco mini-games. I love Yakuza's soundtrack and their faux 80's songs are definitely fun to groove to. You know, if you like that sort of thing.
It is also worth nothing that some side-missions can only be unlocked through progressing through the various mini-games so do bear that in mind.
Speaking of side-missions, Yakuza 0 has a ton of them scattered around the venues of the game. Remember when I said that the world feels like its alive? It helps that most of the side-quests can only be activated when you walk past various events as you go around town.
One of my favorite side-missions is convincing a school girl to stop her Burusera ring. Burusera is quite simply the act of selling used underwear to the sort of people that like them. Of course, these people are depraved individuals so what happens next involves a lot of fighting and of course, Kiryu imparting an important lesson to the offending party.
Truth be told, majority of the time you don't really even feel like a gangster because Kiryu is such a good guy that I just want to actually meet him and buy him a beer. That's how bro he is.
Speaking of which, there are two playable characters namely Kiryu and Goro.
Longtime Yakuza players will definitely be excited to play as these two legendary figures in their younger years. The main difference between them lies in their fighting styles, which is an important component of Yakuza 0.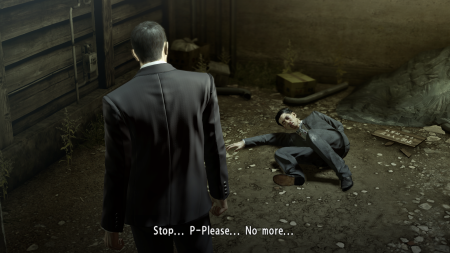 Kiryu is more of a brawler while Goro is a cerebral fighter. Both of them have access to 3 fighting styles with Kiryu having a balanced brawler, a power reliant beast mode and a technical rush fighting style which is essentially boxing. I will refrain from talking about Goro's fighting style, because it might be a spoiler but it's pretty similar to what he has in the future games.
Anyway, Yakuza 0's appeal lies in its ability to convincingly portray a 1980s Japan that's swimming in excess. The world is so alive that I sometimes lose myself whenever I run around doing errands for various shady people – and that's a good thing.
Yakuza's fighting system is simple and it will be sufficiently discussed in the many tutorials in the game, but I can guarantee that it's fairly simple to pick up.
Sounds and Storyline
The storyline is fairly standard Yakuza as it centers around Kiryu who wants nothing but to become a respected member of Tokyo's underworld. However he's such a good guy that he's pretty much better off as a Policeman or something.
But whatever he is, he definitely has a heart of gold – which leads him to be manipulated by the people around him. Goro on the other hand is on a journey for redemption. That's all I'll say but while Kiryu and Goro start out on opposite sides of the map, their journey will bring them together as they uncover the conspiracy that ties the both of them together.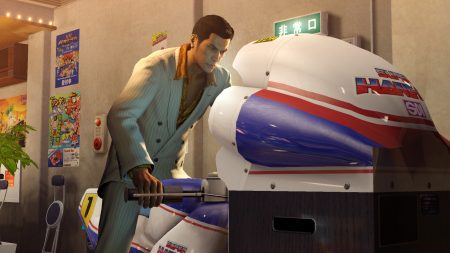 Anyway, the best part about Yakuza is that, while there is a central story in play, it's worth noting that the people around Kiryu and Goro have lives of their own. This is all realistically portrayed by Yakuza's unique side missions. I can talk about how wonderful it is for hours, but it's best to simply experience it for yourself.
And I have to mention that the music and voice acting is all top-notch! Yakuza 0 has an all-star cast of Japanese talents that even people who prefer dubs would be happy with. The music is quintessentially 1980s Japan and it helps shape the atmosphere that immersed me in the game for hours.
Yakuza 0
Release Date: Jan. 24, 2017
Platform: PS4
Developer: SEGA
Publisher: SEGA of America
A prequel that rocks
Excellent sound and voice work - 90%
Controls that'll feel familiar for fans - 85%
Solid graphics, with great details - 80%
The mini-games! Oh, the mini-games... - 100%
Yakuza 0 is a fun game that mixes an open-world with a uniquely Japanese system of side-quests as well as mini-games. If you love that sort of thing, then Yakuza is the game for you. If you don't, then Yakuza may very well change your mind.